The Town Square's True Aim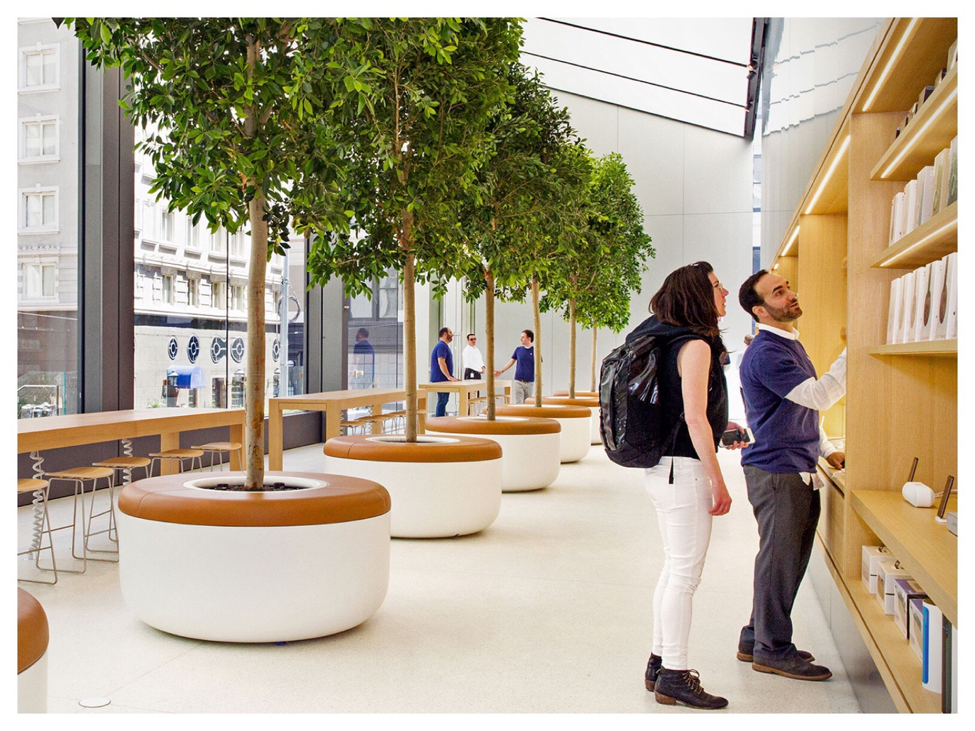 ​It'll be interesting to see how far Apple pursues their new Town Square concept for their Apple Stores. What they're trying to do is not as crazy as a lot of people seem to think. Apple is putting their own spin on what is known in retail as the "destination store".
​I used to work in the corporate headquarters of a retailer who had some of the most successful destination stores in the world, Cabela's. If you've never been to one you should check one out, especially one of the older large stores. Even non-hunters like me find them a fun place to meander.

We were famous for putting huge fish tanks, museums, archery ranges, etc into the stores making them balloon to well over 200,000 feet. People would drive for hours to visit a Cabela's store because they knew they would find the largest merchandise selection and they'd bring their kids who enjoyed looking at the 4ft catfish swimming in the water. Cabela's stores were well documented to increase tourist activity that overflowed to surrounding businesses and restaurants.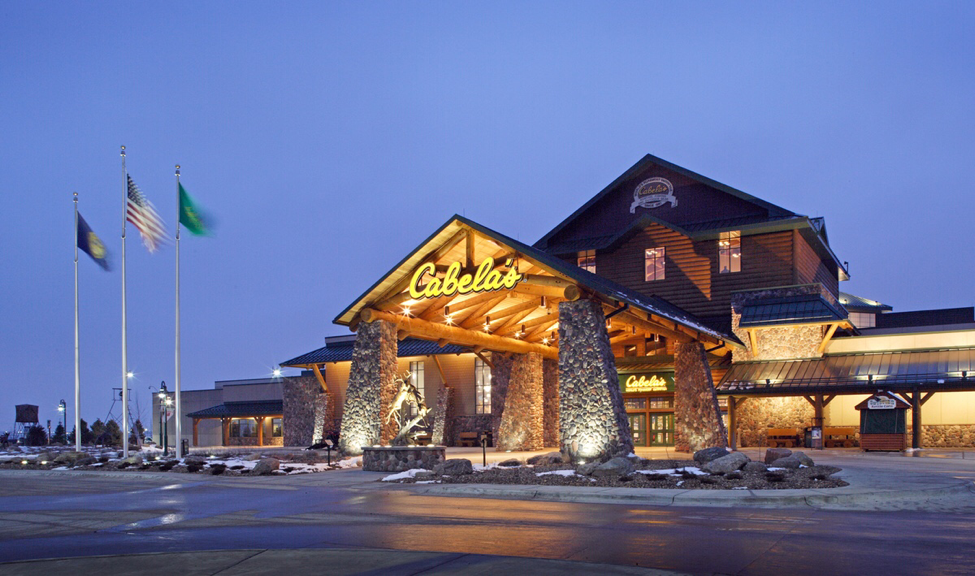 But the destination store concept is the same as what Apple is trying to do. Increase your foot traffic and sales will go up. It's as simple as that. Even when people have no intention of purchasing anything when they visit your store, they often do buy something anyway just on impulse. I've personally calculated the statistics on these impulse sales by shoppers who came in just to browse and it was a nice uplift. Stuff like gum, T-shirts, or Coke were all high-margin sellers for us. Small dollars at first but that browsing often led to larger purchases on future visits like boats or ATVs. I know because I tracked these people. That's why big retailers love those loyalty programs, and are wary of Apple Pay, but I digress.

​Cabela's eventually retreated somewhat from the destination store concept due to the sheer expense. Unlike Apple, they had to borrow money to build their stores and they wanted to build as many stores as they could so they cut their size down to about half of what they used to be. They tried to balance having an attractive enough store that foot traffic didn't decline without having to spend more than they needed to. This boosted their dollars per square foot.


​Which brings me back to Apple. Apple seems to be moving in the opposite direction of Cabela's. There's a lot of similarities between Apple and Cabela's stores. They both sell premium products to a crazed fan base that is willing to drive hours to visit their stores. However, they are different in one key respect. Cabela's started with stores too big and moved smaller. Apple started too small and is moving to get bigger.

Apple already had the sales per dollar square foot metrics right where they wanted. But it now looks like they're trying to increase foot traffic even more outside of their prototypical fan base. But how do you do that when you sell relatively little that non-Apple customers would want?

Cabela's would get a lot of non-Cabela's customers visiting their stores for the first time because loyal customers would bring visiting friends and family to the store. You know how it is when you have a house full of family over for the holidays and you're itching to get out of the house for a while? These visiting in-laws or friends would have a great time visiting our store and often become new repeat customers.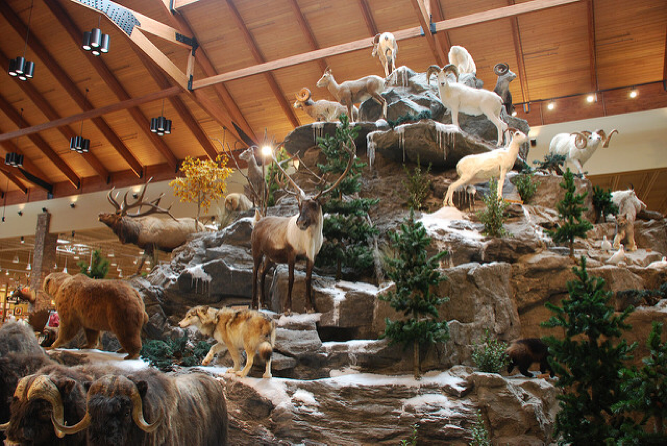 ​I think this is ultimately Apple's aim for the new Town Square concept. They want current customers to invite people who wouldn't normally ever set foot into an Apple Store. Apple doesn't have fish tanks or gun museums but they can offer a classy place with ambiance as a place to sit and rest in a busy mall or downtown city square. Once these Windows and Android customers pass through those big glass doors they'll get exposed to the best that Apple has to offer. And remember, Android customers have no equivalent to the Apple Store. If an Android user gets invited into an Apple Store by an iOS user to use the restroom and just sit and chat they are going to be exposed to the Genius Bar and the latest Apple Tech. I kind of hate to use this analogy but it's similar to pastors encouraging their flock to invite their friends and neighbors to church.

The old Apple Stores were the opposite of Cabela's in that they focused too much on sales per square foot to current Apple customers. People with retail experience can now see that Angela is trying to balance things by also focusing on a "sales funnel". The sales funnel is the concept of increasing overall foot traffic of non-customers because a certain percentage of those become repeat customers.

I should note that investing in your retail sales funnel can be an internally contentious issue within a corporation. There often aren't concrete metrics which quantify the benefits of the sales funnel.The finance group may cast a dubious eye on what they see as frivolity and the Cabela's retail group had to defend their concept on a regular basis. Cabela's move to smaller stores is one stage of a long battle.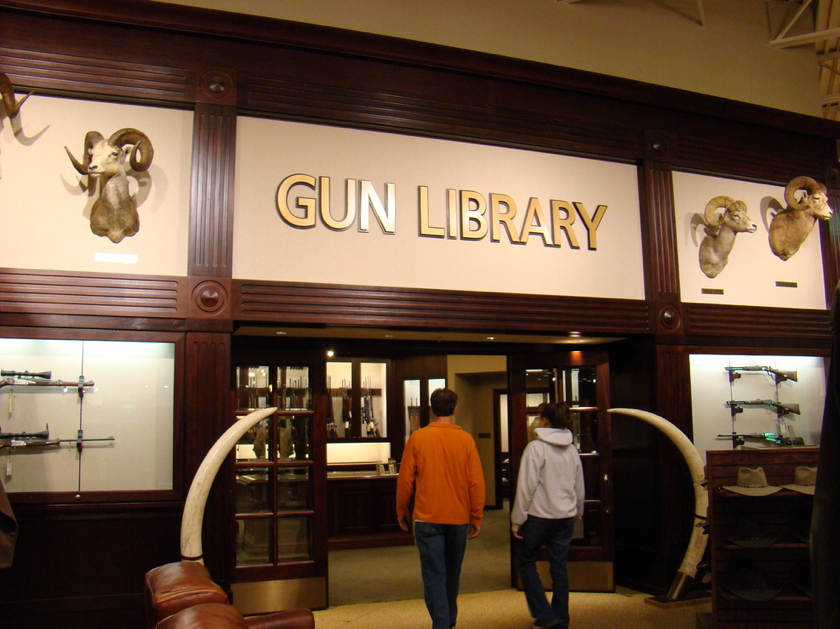 ​But wanting people to say "Hey, lets meet at Apple" and people actually doing that are two different things. Will it work? Will current Apple customers invite their friends and family to go hang out at Apple Stores? I guess time will tell. I know this, if you think it's hard to get people to click on your online ad, imagine how hard it is to get them off their couch, put their shoes on, and drive many miles to your store. It's not easy. But I also know, outside of restaurants and gas stations, there aren't many other places to go if you're traveling.
Now available in iBooks —>
The Tesla Bubble