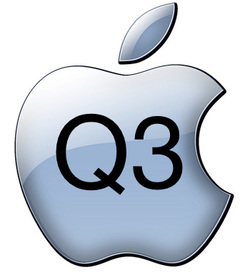 So Apple just reported their first quarterly earnings which included sales of their new iPhone accessory the Apple Watch. Did it go as I expected? Almost exactly.
Remember Tim Cook's comment last quarter when he dropped the info that the Apple Watch was going to be pulling in below average gross margins?
I ran some numbers and came to the conclusion
that the watch would have to exert over a one point drop in the corporate average to justify Tim's comment. Q3 2015 came in at 39.7% which was three tenths higher than the previous year of 39.4%. However, Q3 2014 was before the launch of the golden goose that is the iPhone 6 Plus. Apple's gross margins would have been up even without the 6 Plus because the iPhone is simply a larger piece of the mix. But the 6 Plus magnifies the impact by driving up the average selling price with it's $100 higher price tag. Look at the 2015 vs 2014 gross margin spread for Qs 2 and 1 and compare it to the spread for Q3.