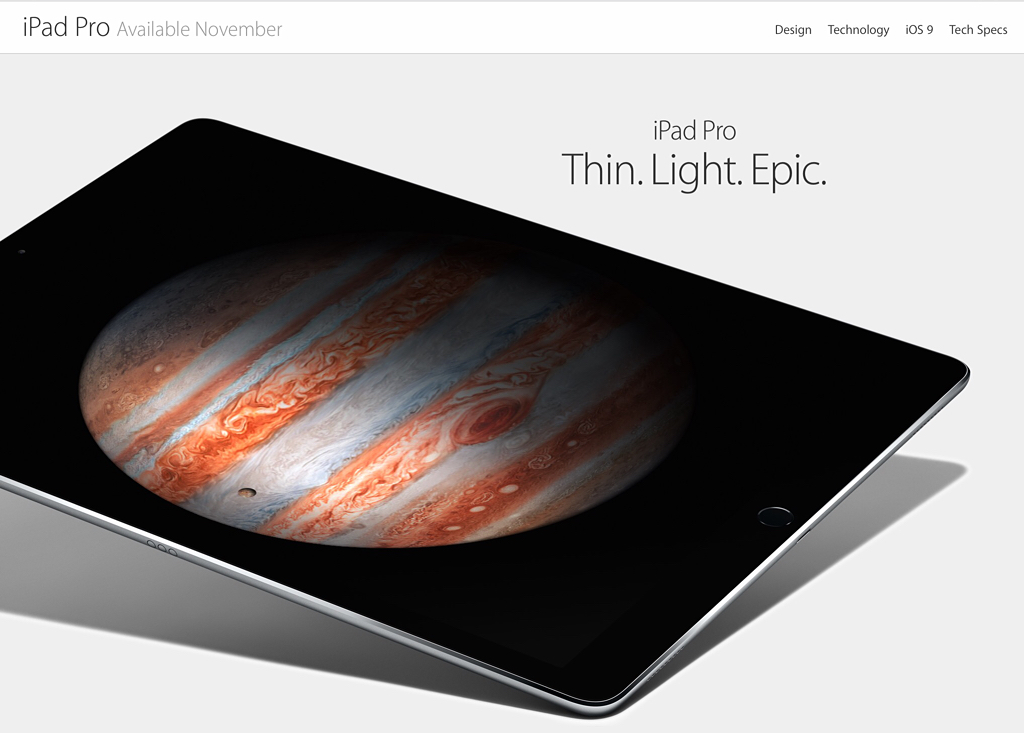 While I was working with Gateway Computers in the early 2000's, my friends and I got endless comedic material from the fact that Gateway department managers didn't regard upgrading five-year-old or older laptops as very important. Such irony that Gateway spent millions of dollars trying to convince people that they needed the latest models with their faster chips and larger hard drives and yet internally decided that five-year-old models were perfectly adequate to get the job done. And you know what? As much as we hated to admit it, we knew Gateway was right.

Even today, most enterprise computers are just barely a step above a dumb terminal connected to a mainframe. They generally run three basic applications: an e-mail application, an ERP, and Microsoft Office. That's it. There's not much reason for computational horsepower because most of what is done is fairly simple, and there is no need for lots of storage because everything is saved to the network. All we need is the ability to communicate, share information, and take notes.
When discussing the iPad Pro's potential in an enterprise role, there's been a lot of handwringing over whether the software is up to the level of the hardware. I don't see the software problem at all. Outlook and Office are already available on iOS, and whatever flavor of ERP a company is using just needs some kind of network pass through. Done and done. Production managers and supervisors need to see their daily schedules and whether or not they have enough raw materials. Warehouse managers need to see which orders are late and need to get out the door. Sales analysts need to evaluate pricing quotes to see how low they can go before they lose money. Regional financial managers need to roll up plant income statements. Vice-presidents need to compare actual financial results to their budget. And on and on it goes. The activity of running a large corporation. None of it requiring much more horsepower than what you have in a mid-range phone nowadays.
And the work world is kind of like social media in that most people are net consumers of information. The various analysts and managers may provide input, commentary, and fill in their piece of the puzzle, but you have a small minority of people in the corporation that do the heavy lifting of creating templates and documents that everyone else uses. But even these power users are mainly using the ERP and MS Office. My point is that once you get above the clerical work of data input, very few people do much typing that isn't in the form of an e-mail. They get paid to collaborate and make decisions.
The one thing that the corporate analysts and managers do a lot of, the one thing that they are full of self-motivation to do, is the one thing that their laptops are ill-suited to do. Taking handwritten notes while sitting in a meeting. And the more notes they need to take, the less likely they are to use their laptop. There are two big reasons for this. One, nobody wants to carry a heavy laptop around the office. Two, people just prefer writing with a pen.
The weight matter has been shrinking as an issue lately. But it remains that people just don't like carrying laptops to meetings. Those who do are the same people who floss after every meal. They don't really want to, but they are going to make the logical decision. It seems to make sense to input your notes directly into a medium that can be edited later, shared, and archived. But even these people sitting in their conference rooms often have a paper notebook right next to their laptop to take "real" notes. It's one thing to input numbers into a spreadsheet, but if you start to really get into a high pressure situation where time is short, you just have to push aside the laptop and grab your pen. And if you have limited table space because you are sitting next to other attendees, that laptop is so in the way of your notebook.
Wouldn't it be nice if your laptop and notebook were the same device? Why has no one thought of this before? Who said that the old laptop paradigm of a keyboard attached to a screen makes the best sense? Business people are not writing novels or trying to program code. In the professional ranks, we want to take lots of notes, share information, and input our pieces of whatever project we're working on. We don't need laptops, and a lot of managers barely need a desk.
Being able to use a tablet that writes notes as well as a gel pen would be like inventing carrots that taste like chocolate fudge. It appears that the iPad Pro is poised to be the first pound-and-a-half tablet to accomplish this feat. I can't explain why, but people just seem to prefer taking notes with a pen. But paper notes are inferior in one major way—unless you have your notebook with you, they are useless. Also, searching through a couple hundred pages of handwritten notes is excruciating when you're in a hurry. Being able to take notes on the iPad Pro with an Apple Pencil would allow you to keep all your notes in one place. And furthermore, even if you don't have your iPad Pro on you, you could always look up your notes on your phone or Mac via iCloud. So if you're sitting in a meeting and need some info on something that you wrote down three months earlier, you can search for it on your iPhone or maybe even just ask Siri to find it on your watch. People are seriously going to love that.
The newly introduced iPad Pro both surpasses my hopes for what we were going to get and falls short of what I wanted. The larger screen really opens up the possibility of using spreadsheets on the iPad. That much I expected. But the new Apple Pencil allowing spreadsheet jockeys to quickly and precisely select cell ranges and the ability to write notes on your screen was something that I never saw coming. However, the all important right-click menu is still going to be a pain to access. I can't stress how important the right-click menu is to users of MS Office. It's tantamount to the foot pedals in an automobile. Nobody would ever design a car with disregard for history and remove the brake and gas pedals from the floor, asking drivers to use buttons on the steering wheel without getting some pushback. (Hopefully this doesn't come back to bite me in 2019). The iPad Pro is good enough as-is to convert a lot of people, but every one of those Office users is going to be chomping at the bit to get at their old right-click menus.
A couple of years ago Anand Shimpi, formerly of Anandtech.com, asked for thoughts on what business people would like to see out of an enterprise-oriented tablet. He said he was working on a secret project with a large unnamed company in the business. I told Anand at the time that the 9.7" iPad screen was just too small to work with spreadsheets. Show me someone who thinks that the current iPad Air 2 is adequate for using Microsoft Office and I'll show you someone who doesn't work with spreadsheets much. I don't want to repeat my earlier thoughts on spreadsheet usage on the 9.7" screen, but suffice it to say that the cells are just too tiny in Excel on a 9.7" screen, and the iPad Mini is a lost cause. If you never work with spreadsheets on the iPad, let me describe it for you. Imagine that it's a freezing cold morning, and when you walk out to your car, the windshield is covered in ice. With no scraper, you use a credit card to clear a small spot the size of a grapefruit and proceed to drive looking through that small circle. The whole time you're driving, you are anxious because you can only see what is directly in front of you and you worry that something important may be just outside your field of view. That pretty much sums up the experience of working with spreadsheets on an iPad Air or Mini.
I also told Anand that weight trumps size. Meaning that at the same weight, accountants would pick the larger iPad to accommodate their spreadsheet creations. However, if the larger tablet is much heavier than the other, accountants would opt to stay with the two device solution of using the lighter iPad for e-mail and note-taking and continue to use their laptop for their spreadsheet work. Exhibit A would be the Microsoft Surface Pro. We can have a 13" tablet today that does everything we want. But when the first two versions were introduced weighing two pounds, nobody wanted to use them as a tablet because two pounds is just outside of the comfort zone to use as a magazine. Being too large isn't the issue, it's the weight.
Introducing the 1.59-pound iPad Pro at close to the weight of the original 1.6 pound iPad and iPad 4 was huge. The original iPad proved that people were willing to buy 1.5-1.6 pound tablets by the millions and that they didn't mind carrying them around the house, on airplanes, or to meetings. At a pound and a half, it was still in the comfort zone where you could sit back on the couch and watch a movie. I think some people balk at the thought of a larger iPad because they assume it will be heavy. But if it weighs close to the same as recent iPads, where is the downside? It's not like you can stick an Ipad Air 2 in your back pocket. You won't be holding it up to your head to make calls. My 4th generation iPad weighed 1.44 pounds, and it never bothered me all that much. The thought of getting a nearly 13" screen to run multiple apps and note-taking ability at nearly the same weight as that fourth generation iPad is just mind boggling.
Now to my gripe with the new iPad Pro. I had written earlier about how important the right-click was to people in the business world who use Microsoft Office. For me, the real deal-breaker to using Office on my iPad is that I have to remove my hand from a selected range and go navigate a menu to accomplish my next step such as formatting or cut/copy. In my original plea for an iPad Pro, I envisioned the only possible solution would be to add mouse support. I just couldn't imagine how else Apple could handle the situation. A stylus with a button might work, but it doesn't look like Apple included that functionality with the Apple Pencil.
When I saw Apple's keynote address last week detailing how 3D Touch worked, I was giddy with excitement. This is it! This is how you can seamlessly incorporate the left click select and right click menu. After you drag your finger over cells to select a range, you could "peek" into your menu and "pop" to select the option. This is what the iPad needs to get to the next level. Brilliant! Only…it's not available on the iPad Pro. What? Why?
For enterprise use, 3D Touch would have been killer. It would have been THE solution to decades of right-click muscle memory. And perhaps, instead of being simply a viable work-around, it may actually be a better way of doing things. Even those of us who've been using spreadsheets for decades will, in a flurry of creation, slip up and do a right-click when we meant a left-click and vice versa. It's hard to see that happening with the drag your finger to select a range and then press in to peek. 3D Touch looks like it may not not only be an alternative to right-click but may be superior.
So am I going to get the iPad Pro? I can see the immediate appeal of the note-taking capabilities, but it would be hard for me to justify a thousand-dollar notebook. Since my employer isn't about to get me one, it would be for home use, and my iPad Air 2 works just fine for my writing. What I really want is for my employer to issue me one so that I would have a truly portable device that I can carry with me to meetings and use on a plane or sitting in my office. But getting corporate IT departments to buy in to the iPad Pro may be a few years out.
I can see, however, that Apple is definitely on the right track here. The iPad Pro could be the first device that corporate professionals look forward to getting since 1996. Back then, getting a work-issued laptop was a status symbol of sorts. But Dell Computer quickly turned the standard issue laptop into a sea of formless black rectangles designed with low-cost production as top priority. The iPad Pro could change all that. This sleek new device leaves out what we don't need and brings features that we've always wanted.
My earlier iPad Pro related posts
-----------------------------------------------------
The iPad Pro Has Two Big Problems
A Larger iPad is Long Overdue