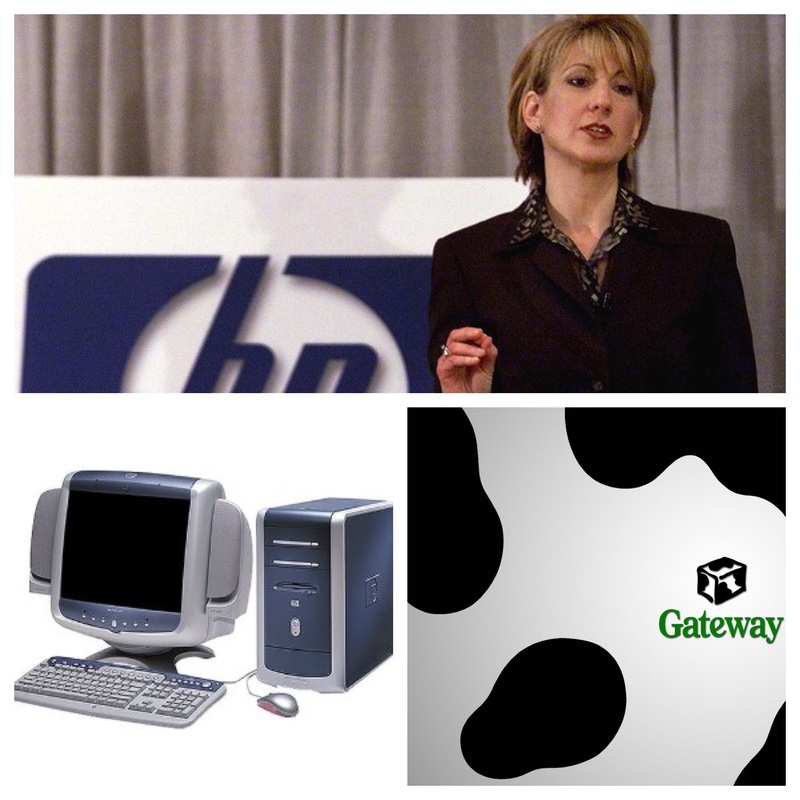 Yale professor and longtime friend and advisor to Bill Clinton,
Jeffery Sonnenfeld, has been a one-man attack machine lately
. His hit pieces against Carly Fiorina have been widely circulated and quoted by journalists without the financial background to see how preposterous they are. You can make a lot of accusations about Carly Fiorina, and some of them would be valid, but the assertion that she did a terrible job of leading HP computers through the PC wars of the early 2000s would not be one of them.

The Great PC Sales Slump

Working in the PC industry in the early 2000s was kind of like being a crew member on board the spaceship in the movie Aliens. People all around you would just disappear never more to be seen, having fallen victim to the latest job cuts. I specifically remember one unlucky pricing manager coming to a weekly update meeting kind of depressed. He had found out that morning that he had lost his job when his office telephone extension service had been cut. When he called IT, they informed him that according to their paperwork his last day was the previous Friday. The problem was that his boss had lost his job about a week earlier, so there was no one to pass on the news to him. But Gateway was not without compassion—they gave him two more weeks.

But PC sales fell off a cliff after the 9/11 terrorist attack, with sales already soft after the dot-com bubble had burst, causing a huge slowdown in the purchase of anything office related. All those little startups in California buying laptops and office furniture like it was going out of style in the 1990s went belly-up. They flooded the market with almost-new office equipment. And with all the talk of war, impending armageddon, or nukes going off in American cities, the average consumer just didn't seem too interested in buying a new family PC. This devastated the computer industry. As an operations analyst at Gateway Computers, I remember seeing certain product-line income statements which showed 30% year-over-year declines. And it wasn't just us—this hit Dell, HP, etc.

There's an expectation in the business world that says you must match your expenses with your revenue. Don't let the gravity of that statement miss you, because this one statement is the dividing factor of two camps in government and part of the reason that the "outsiders" are so popular in the GOP camp right now. If sales fall, an astute manager is expected to try and match his expenses commensurately. People don't understand why government can't be run like a business. They see that restaurants have less wait staff between lunch and dinner or they see that Walmart has less cashiers after 9pm. Why? Because less revenue means you have dial down your expense or you lose money. This is the world in which Carly spent her formative years, molding her world view. To succeed in business any successful manager is going to learn to "flex" their expenses to match revenue.

The PC Wars Begin

My respect for Carly Fiorina started way back in 2001, and it was more the type of begrudging respect due to a worthy opponent. Being part of the opposing team, I wanted to see her fail in a spectacular fashion, and I didn't feel too bad about that because I knew it was either us or them. Ted Waitt had just returned to Gateway in January of 2001 after an accounting scandal which had left the company without a CEO, CFO, or controller. Then the September 11th terrorist attack on the World Trade Center caused an economic downturn unlike anything the tech industry had ever seen. Gateway was fighting for survival, and Ted Waitt had ridden into town hoping to pull off a Steve Jobs-esque return to glory.

Everyone knows the old joke about the two guys who see a hungry lion coming at them. When the one guy gets up to run the other guy asks, "What's the use?"since the lion is much faster. The guy who got up to run replies, "I don't have to outrun the lion. I only have to outrun you." That is how we at Gateway felt about HP. Dell was the low-cost lion, and we knew we could never beat them in an outright price war. They had too much of a head start with their efficiency culture, and they were the lowest cost producer in the business. But it was believed within Gateway that HP was a bloated, bureaucratic mess with high manufacturing and administrative costs. We just had to outlast HP, and after they left the PC market, we would be there to scoop up their customers.

In this new environment of falling PC sales, we didn't believe that HP could follow Dell and Gateway in the game of PC price limbo. Sure, when sales are booming, even high-cost manufacturers could make a buck selling PCs. But when sales start to fall, the order of the companies who will exit the market begins with the companies with the highest fixed costs. We were sure the decades-old basket case that was HP would feel the hurt long before young, nimble Gateway. Anyone under the age of forty may find this whole scenario puzzling, but HP prior to Fiorina really was the textbook example of what happens when a company steeped in tradition rests on its laurels. They had morphed into an inefficient and top-heavy entity that believed anything wrong with its products must be the customer's fault. And that was mostly true, until Carly arrived.

The Hard Numbers

Every quarter during 2002 we eagerly anticipated HP's next earnings release. Would this be the quarter when they started to crack? Is this the day that the battle would turn in Gateway's favor? But not only did they seem to be weathering the great PC market implosion better than Gateway, they were actually improving every quarter and showing signs of rising from the storm a stronger, more agile company. In fact, right after their first full quarter as a combined HP and Compaq, they had increased their profitability compared to the same quarter in the previous year as separate companies. How could this be?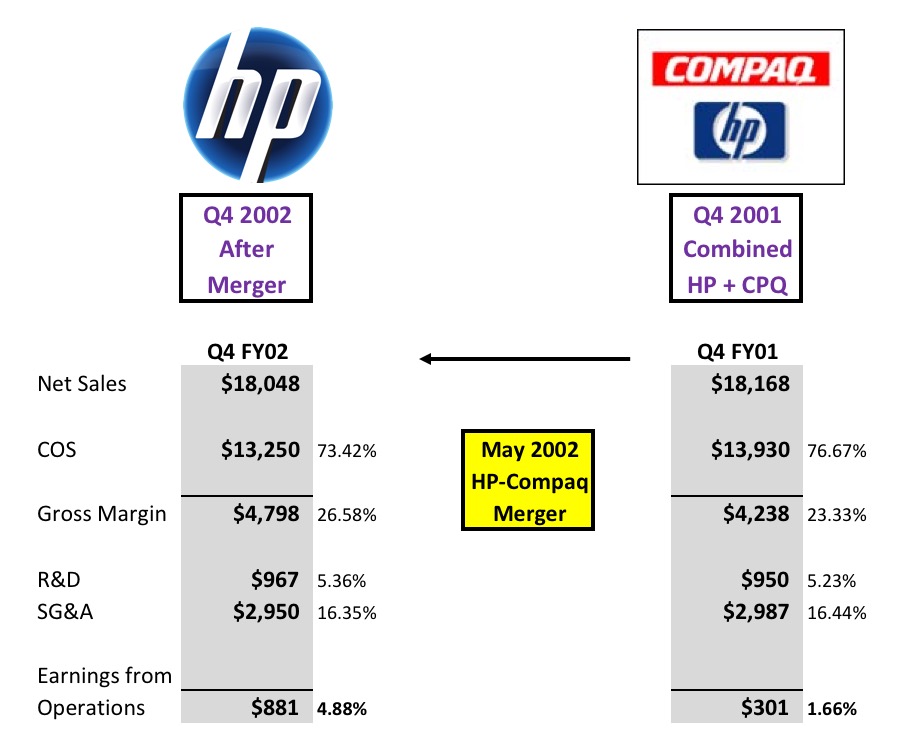 The seeds of this success were laid back in 1999. The HP board of directors knew that HP had
devolved into a stodgy, lumbering organization that would be in real trouble if it wasn't for their printer business. They knew they needed a strong reformer who could think outside the box. So they hired Carly Fiorina as their new CEO. She immediately went about reorganizing the company and overhauling their incentive systems.

To all the naysayers trying to rewrite history about the HP/Compaq merger, the hard numbers prove you wrong. The PC business had descended into a commodity industry; and when it comes to commodities, volume is king. According to their annual report, with the purchase of Compaq, HP was able to immediately renegotiate its contracts for raw materials and freight. Greater purchasing power leads to better prices and lower rates. See the graphic above where this shows up in a lower cost of sales and SG&A, made even more impressive by the fact that it was on lower top-line sales.

And lest you think that Q4 of 2002 was some kind of accounting trickery, I present to you the next three years of results up to Fiorina's departure. Something that Jeffery Sonnenfeld hopes that no one takes the time to look up.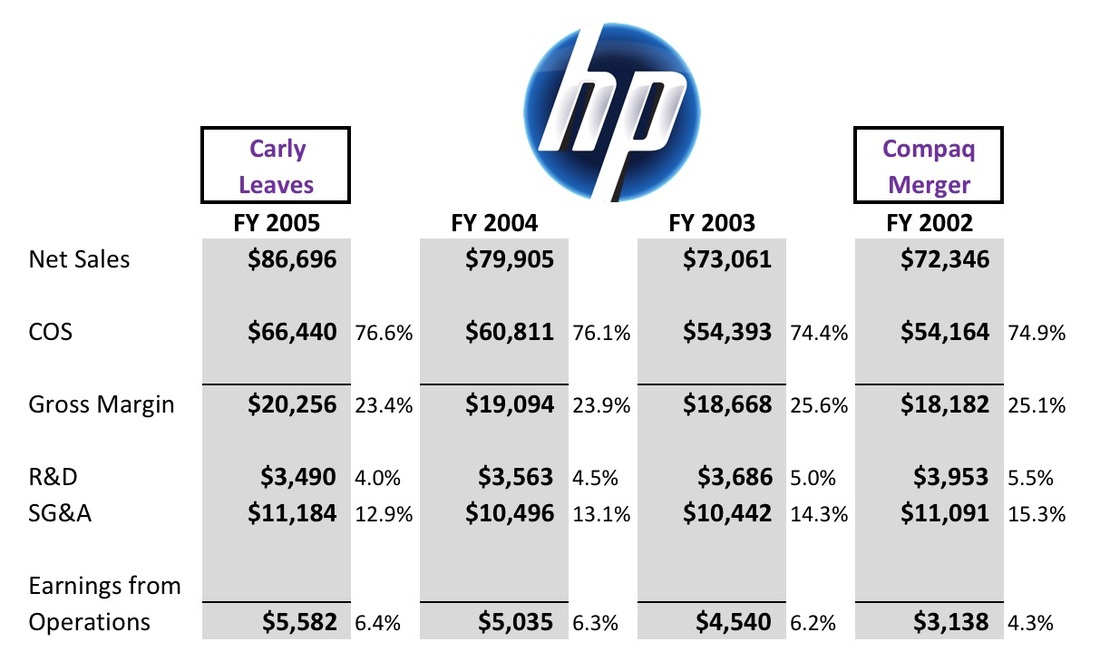 First, look at that sales growth. It's true that HP purchased a huge bump in sales when they purchased Compaq. However, any suggestion that they didn't continue to reap organic sales growth is false. Even when accounting for the combined volume of both companies, HP was growing top-line sales.
HP's manufacturing cost of sales was rising as a percent of net sales, but I completely expected that. Every other PC maker during this time also faced a higher cost of sales because everyone was slashing their prices, trying to keep their factories full. PC prices were falling hard and fast during this time. What separated the winners from the losers was how the different companies offset those sales cuts. Look at HP's SG&A as a percent of net sales. It went down steadily every year. Again, coming back to that Compaq merger, not only were they able to save material and freight costs due to greater purchasing power but they also didn't need two of everything. They didn't need two accounting departments, two marketing groups, etc. The administrative costs took a little longer to realize, but they steadily dropped their SG&A which more than offset what they were losing in price.
The Dissolution of Compaq
So did HP layoff thirty thousand or so employees during Carly's tenure? Yes, but that is why HP is still around today. Also, people forget that after the merger with Compaq there was bound to be a lot of redundant headcount. HP was counting on that. Companies like Gateway that didn't make a bold move early enough ceased to exist. So Jeffery Sonnenfeld making the assertion that "most of the acquired Compaq was shuttered" as if it was some sort of slam on Fiorina makes no sense. Not only would HP have banked on leveraging its fixed costs by absorbing more volume with less headcount but they also would have wanted to consolidate their product lines to enhance shared components and further reduce costs.
Unlike a law professor who knows nothing about the PC industry, my job at Gateway was to scrutinize the costs of PC components and their impact on product-line profitability. One of the things I found was that most of the components in PCs, even from different companies, were the same or very similar. For example, even a low- or high-end computer might share a power supply, brackets, motherboard, bezels, etc. Though the memory chip or processor might be different, the engineering group tries to keep as many other components the same in order to maximize purchasing volume discounts. Why is this relevant to HP? Because HP was criticized for purchasing a PC company with lower overall gross margins. But what the detractors, and Sonnenfeld, failed to grasp is the huge purchasing advantage that HP would have derived. Even with the lower-margin PC sales of Compaq, HP was able to spread its fixed costs among the greater unit sales and get better pricing on the shared components. A win-win situation. And as time went by, HP was able to slowly weed out the underperforming product lines that Compaq sold and move that volume over to HP. What Sonnenfeld calls "the shuttering of Compaq" looks to me like a well-executed plan. Either Sonnenfeld is as dumb as he sounds, or more likely, he's doing his old friend Bill Clinton a favor and cutting out the only other woman in the presidential race.
This was a new HP
Gateway executive management was stunned. The old HP we all knew was no more, and Carly Fiorina had thoroughly transformed the company. HP had become competitive on price, they were flexing their newfound purchasing power, and they were quickly responding to promotions and product trends. I remember one of HP's 2003 quarterly earnings releases that was particularly strong. You could almost feel the gloom hanging in the air at Gateway's corporate offices as people discussed it in the halls. By 2003 Ted Waitt knew we would never beat HP and actively started looking for an escape hatch. By 2004 we had merged with eMachines, but it was effectively too late. By 2007, Acer had purchased Gateway and gutted the company. Gateway Computers today is a lot like KFC's Colonel Sanders—you may see the Gateway logo on a sign, but all the people and factories once behind it are now long gone.
Carly saved HP. I haven't seen a more clear-cut illustration of the right person being in the right place at the right time since the Israelite Joseph had his dream of the seven fat and skinny cows and prepared Egypt for seven years of famine. I'm confident that had the HP Board not hired Fiorina in 1999 that at best, HP would have followed the same course of action as IBM and exited the PC business, sticking to what they considered their core competency—printers. HP has had a lot of turmoil since the exit of Fiorina, but that's not her fault. She left her successors with a vibrant company that had regained its winning attitude. I'm sure if the HP board had not fired her, HP would have gone on to even greater success in the tech world.
What about HP's Stock Valuation?
Andrew Ross Sorkin of the New York Times throws Carly Fiorina under the bus because the tech stock bubble burst. He basically throws out all objective earnings data and hangs his hat on the one thing that the CEO wouldn't actually control, investor expectations. Again, another partisan hack hoping that no one is going to do their own homework and actually look at the financial statements. Furthermore, he has the nerve to call investor expectations "empirical evidence" while discounting the generally accepted yardstick by which all CEOs are measured, the income statement. But if, for the sake of argument, we indulge Andrew Sorkin and actually use the stock price as "empirical evidence," he goes one step further and says we must discount the financial landscape of the time. Meaning, the fact that the NASDAQ crumbled and other PC companies like Gateway Computers were hovering in penny stock territory should have no bearing on how well Carly Fiorina helped steer HP through the worst tech financial crisis of all time. That's like blaming President Roosevelt for the spike in the American death rate during his administration and saying the fact that over 400 thousand Americans died beating back the Nazis is irrelevant.
As I'm always fond of mentioning, the stock price is the present value of future expected earnings. It is not reflective of past performance. As such, the stock price is susceptible to the gravitational pull of the press. And the fact that malcontents from the Packard family such as Arianna Packard were running to every microphone shouting that the company was doomed didn't help. Couple that with the fact that there was a general anti-tech mood in the investment community at the time. Tech had fallen out of favor and noone wanted a heavy PC portfolio. Everyone forgets, HP stock wasn't in competition with only Dell or Gateway, but Coca Cola, Exxon Mobil, and every other company listed. And anyone who cherry picks one or two PC companies that may have done marginally better than HP ignores the others that were delisted. HP wasn't trying to outdo Dell, they needed to beat Gateway and IBM. Mission accomplished.
So if Carly did such a great job why was she fired?
First of all, even the people who fired her now state that they made a big mistake which further bolsters my case. But business isn't all numbers and equations. When you do what Carly did, break down fiefdoms, reorganize a company's hierarchy, and start laying off people, you are bound to have quite a few "personality conflicts". And as is human nature, those who were opposed to Fiorina did the only thing they could do. They ran to a higher authority like spoiled children seeking the more permissive parent. That would be the board of directors, to whom all CEOs report. The problem here was not with Carly. The real story is that there was a dysfunctional board that allowed itself to get pulled into petty politics. They should have risen above the fray and supported their coach even though the players were complaining that she was a strict disciplinarian. Yes, one party comes out of this smelling pretty bad, but it's not Fiorina.
In Conclusion
I dare journalists to ask Carly Fiorina's contemporaries of the time if they thought she did a terrible job at HP. Ask Ted Waitt, Michael Dell, or IBM's CEO at the time Sam Palmisano, guys who actually understand the PC business and in all probability may not even like Carly but probably respect her business acumen. But don't ask a partisan hack like Jeffery Sonnenfeld, who himself has a dubious history.
I'm not arguing that Carly Fiorina's experience at HP qualifies her as the best presidential candidate. She may or may not be depending on how you feel about her policy positions. I am arguing that her experience at HP puts her in that rare league of leaders who are effective change agents. She competently led one of the world's largest and most well known companies through the worst period in its history. She believes in matching expenses with revenue. She knows how to set up effective incentive systems. And she knows BS when she hears it.
Related
-------------
"Clinton Ally" Attacks Carly Fiorina