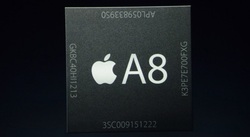 There's an old biblical proverb that says "the borrower is slave to the lender" which immediately came to mind when I heard the reports coming out of The Korea Times. Basically, it says that Samsung was chosen to supply Apple with 80% of their chips starting in 2015 with Taiwan Semiconductor getting the other 20%. I suppose the business equivalent to the proverb would be that "the manufacturer is slave to the customer".

So why would Apple return business to their largest competitor while Samsung continues to blanket the airwaves with ads that literally insult Apple? That's the question I've been mulling over for a couple of days, and as with most things related to Apple, I think the answer can be found in the financial analysis.

The Wall Street Journal reported in August that Samsung executives gave a dire outlook on their investor conference call stating, "Sales and profitability from System LSI (logic chip business) worsened as demand from main customers continued to decline." Samsung's in-house chip maker is getting squeezed on two fronts. One, demand from its Galaxy line Exynos chip is getting pressured from Xiaomi, and two, Apple simultaneously pulled its volume at just the right time. The right time to demand a better price.

Samsung Semiconductor must have excess capacity. There is no greater sin in the manufacturing world than having idle assets. You exist in a kind of no-mans-land where you have the worst of two worlds. Your revenue is down due to a sales decline, and your expenses are high because you continue to take the depreciation hits. It's like losing your job but continuing to make payments on your timeshare condo. You'd be better off slashing your prices and selling something at reduced margins to keep spreading your costs over larger volume. If you can't spike volume in a short period of time, you'll be forced to cut your losses and sell your assets. This will trigger an enormous short-term hit. Remember those monthly depreciation charges? If you sell the assets, the entire remaining balance of depreciation is going to hit your income statement all at once. I'd guess that Samsung management has already been told to turn this ship around, or else. I don't think they want their follow up-act to be a steeper loss.

Look at this simple illustration. I'm comparing a hypothetical company that has lost volume but carries excessively high fixed cost. In the first scenario, management does nothing. In the second scenario, management makes a customer an offer they can't refuse and sells product at a loss. You can see that even if they lose money on the new business that they come out way ahead.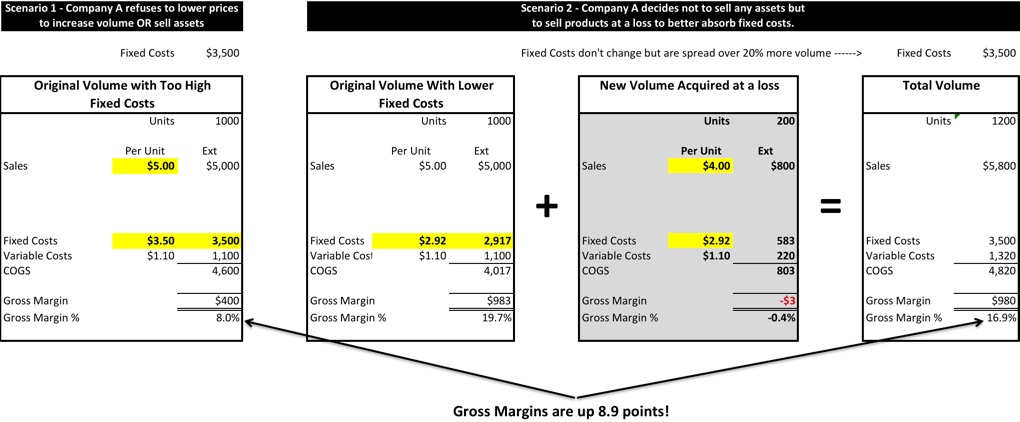 People have feelings of affection and animosity, but corporations don't. Samsung sees that they are not getting back the stolen volume from Xiaomi, but one thing they can do is aggressively go after a very large lost customer. Look at the timing of this report from The Korea Times regarding Samsung's new win; it's getting leaked about two weeks after Samsung reported a profit drop of over 60%. It's possible after the disastrous quarterly report that there may have been pressure from the Samsung board to the executive team to make things happen. Samsung may have made Apple such a great offer that it couldn't be ignored.

I've seen a few headlines implying that this may have been some sort of victory for Samsung. If victory is defined by Samsung lowering its prices and begging Apple for their business, than I'm sure Apple didn't mind "losing". Apple must be getting a heck of a deal, and if you thought they were making money before, than just wait until they start reporting earnings with Samsung's new low pricing built into next year's products. Remember what the single most expensive component in an iPhone or iPad after the display is? Yup, it's the chip.