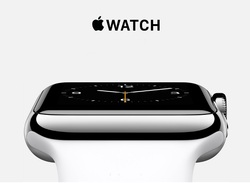 I've been using the Pebble watch for a few months now, and I'm absolutely amazed at what the developer community has been doing with this modest little device. Turn-by-turn directions, eBay auctions, Detroit Lions touchdowns during church, or even Domino's Pizza delivery monitoring…all on a small, black-and-white screen with relatively little processing power, and stiff-armed by iOS.

Next to my beloved Pebble, however, the Apple Watch looks like a glossy black and silver Lamborghini with power and appeal. I can only imagine what the developers are going to do with this larger retina screen, more robust specs, and total iOS integration. But is a new product with one of their lowest starting prices going to move the needle for Apple? How many watches does Apple need to sell for the product to be relevant?

First, we need to understand how Apple is evaluated by using a simple example. Let's say that you invested $500,000 in Company A and $200,000 in Company B. When one year was over, you had earned $50,000 from each investment. Would you be ok with that? The dollar amount was the same, but the return on your investment was 10% from Company A and 25% from Company B. You'd obviously be happier with the larger percentage return. Why? Because the more you invest, the more you expect.

Herein lies Apple's problem. The spectacular success of Apple's iPhone and iPad has led to the wonderful accumulation of cash. This cash has to either be returned to the stockholders or reinvested into the company. If it is reinvested back into Apple, investors raise expectations. This is the part that non-financial types don't seem to understand. They constantly talk about Apple as if they should be happy with having $150+ billion dollars in the bank, and from that point on perhaps the computer giant should start to give back to the people who got them there.

Look at Apple's total assets for the last three years, and you will see that it is steadily increasing, mostly due to cash and investments. Yet Apple's net income as a percent of those assets has actually been on a downward slope. So, yes, Apple's bank account continues to grow; but from the standpoint of return on investment, they've been declining. Apple's stock is at an all-time high right now, but this is not due to their current performance. Stock price is an indicator that investors think that the company has found a path to much greater profitability IN THE FUTURE.

So below we see that while Apple is accumulating $25-$30 billion a year in cash, the net income is not keeping pace. Can the Apple Watch hit high enough volumes to fill the gap?



In yellow is my conservative assumption for next year. If Apple accumulates another $28 billion in cash, what would Apple have to earn to hit a return of 16%? $41.6 billion, which would be an increase in net income of $2.1 Billion.

Assuming that Apple maintains its net income margin of 21.6% of sales, the Apple watch would have to bring in an additional $9.7 billion in top line sales revenue.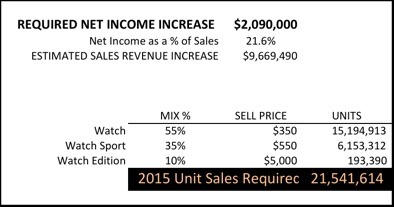 Could the Apple Watch pull its own weight and step in to supply an additional $2.1 billion in net income? You could play around with blended sales price and mix ratios all day long, but I decided to take my best guess not even knowing how the prices are going to end up. By my calculations, Apple needs to sell about 21.5 million watches in 2015 to be considered worth the effort from an investor's viewpoint. It would have brought in enough revenue at this sales level to avoid any deterioration in the financial trend but needs to sell more than that amount to be considered a success.

Can Apple sell over 21.5 million watches? I don't know, but the iPad sold 15 million units in its first year. And the watch doesn't necessarily have to do all the heavy lifting by itself. The larger iPhone 6 is expected to have a banner year in 2015.

The Apple Watch is probably engineered to earn a healthy gross margin at the unit level. But gross margins alone are not enough. With an additional re-investment of $25 to $30 billion dollars of new capital per year, what is Apple doing to justify all that cash? Remember my example from earlier: the more money you invest, the more you expect in return.