The Echo Is the Next Sonos, In More Ways Than One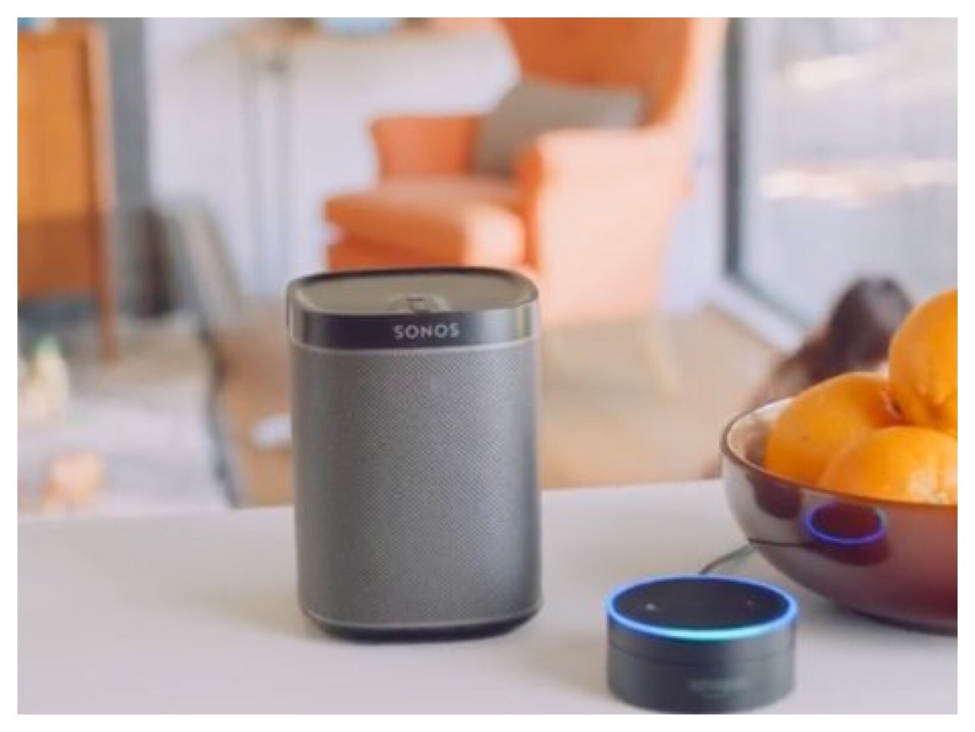 ​I find it the height of irony that Sonos is partnering with Amazon to plug a hole in their feature lineup. Only a few years ago, Sonos was the premier wireless music solution. When it came to wireless music for your home that had quality sound, Sonos was everyone's top recommendation.
But Sonos was a one-trick pony which fell behind to devices like the Echo. Amazon built a speaker which had less quality but more convenience. Not only that, the Echo has a whole set of additional uses which make the Sonos seem quite limited.
And now the preeminent company in the world when it comes to a personal knowledge database and machine learning has invaded the Amazon Echo's turf. Google launched their Google Home and is learning fast. Coming soon, the richest company on the planet is throwing their resources behind a device that claims to do things with speakers which no one even thought were possible. And both devices from Google and Apple will know all your deepest secrets: who your friends are, when you eat breakfast, or where you go every night. And Apple outdoes everyone in that they're not just in your pocket or car but they're in your ears and on your wrist.
So now, in the time of Sonos' greatest need, they turn to the company that knocked them out of orbit for help. Only, unbeknownst to Sonos, Amazon's Echo is destined to be superseded itself—by devices which can surpass both its convenience and its skills.
It seems obvious to me that the Amazon Echo's days are numbered, but I'm flummoxed as to how no one else seems to see it. Either I'm missing something big or no one is willing to play the next few moves on the chess board.
For the sake of argument, lets say that the Amazon Echo continues to grow. How does Amazon monetize this? It is doubtful that margins on the Echo hardware are very high and likely that volume is relatively low compared to even some thing like the Apple Watch. There has to be something beyond the immediate profit of selling the Echo to incentivize Amazon to invest in the ecosystem.
Apple reaps their margin reward in two areas. First, their HomePod will probably have high margins and grow into a business on its own that will eventually dwarf the Echo both in terms of revenue and units sold. That's the advantage of an installed iPhone user base that is in the hundreds of millions. Second, the HomePod adds to Apple's
expanding hardware kingdom
of AirPods and Apple Watch to sell more iPhones. Apple is differentiating itself from Android in a very real way that is helping to funnel new users to iOS and to entice Android users to switch.
I can also see the appeal of the Google Home assistant. It extends the appeal of the Google ecosystem into the home in a way that is more convenient for Android phone users. This ultimately drives up advertising dollars and keeps their hardware sales humming along.
But the Amazon Echo? Where is the payoff here? Amazon has no "ecosystem" that the Echo is augmenting. They are trying to turn a simple vocal interface into the ecosystem. This reminds me of how Hollywood sometimes will build an entire movie around a relatively minor character in another movie or TV show. Telling your lights to turn off is a feature, not a platform.
Amazon's raison d 'etre is to sell merchandise both physical and digital. How is this helping them to sell more of it? That's what it all boils down to. A voice interface is great for a lot of things. Especially in your house, since you can control the noise level and you aren't self-conscious about speaking. But shopping is one of the few things that is terrible with a voice interface. It's even terrible with a screen, unless you can hold that screen in your hands. People still don't like shopping on their TVs, and the Echo Show suffers from the same problem.
I used to work for the Amway Corporation (now Alticor), installing inventory systems in foreign subsidiaries. One of the things that I learned while working there was how expensive it was to care for and feed an army of programmers. Our catalog business was run on a custom AS/400 system that our in-house programmers maintained. Every 1,000 heads would require roughly $150 million per year to support the salaries and capital. That is why few companies maintain their own custom systems anymore.
I have to wonder how many people Amazon has devoted to the Echo business. There's design, manufacturing, customer service; in addition to those, the programming portion alone must be huge. The cash drain that this must impose on Amazon would be highly significant. And for what payoff?
The Echo is the kind of diversion that CEOs are allowed to have when profits are not a concern, meaning that the company is already very profitable or investors are patient because they see the long-term picture. But sooner or later, an involved board of directors is going to want to connect the dots on
how the Echo is contributing
towards Amazon reaching its financial goals.
Programs like the Amazon Echo become juicy targets when executive management becomes under pressure to increase profitability in a short time. If you knew you could cut a billion dollars in expenses and only suffer a $50 million drop in revenue you'd be stupid not to. Cutting the Echo program would be like a family in bankruptcy wondering if they should sell their vacation home in the Hamptons.
Maybe Jeff Bezos has already explained his grand vision for the Echo to the board and they're OK with it. But I'm sure not seeing it.
Update:
I should have noted earlier that I'm scratching my head on the Echo due to Amazon's insistence that they're not using the devices to eavesdrop on households. If they are eavesdropping or intend to quietly change their policy in the future...then
it all makes sense
. There would be a definite link to future profitability with a
concrete payoff
.
Now available in iBooks —>
The Tesla Bubble