The Real Reason Android Doesn't Need to Throttle

In the face of Apple's criticism for throttling old iPhones with worn out batteries, Samsung came out and stated that they didn't do that with older Samsung phones. Which I found to be quite hilarious.

First, Samsung is admitting that they don't have deep hardware and software integration the way that Apple does. Apple controls both sides which is one of the reasons that iOS is much more power and memory efficient than Android.

Second, Samsung's mobile phone chips are so much less powerful than Apple's custom designed chips that there is no need for throttling. Look at the table below of single core benchmarks from the Geekbench website and what jumps out at you? Single core performance on iPhones blows away any Samsung or Google phone. In fact, the Galaxy Note 8 still isn't even to the level of the iPhone 6s which came out in 2015.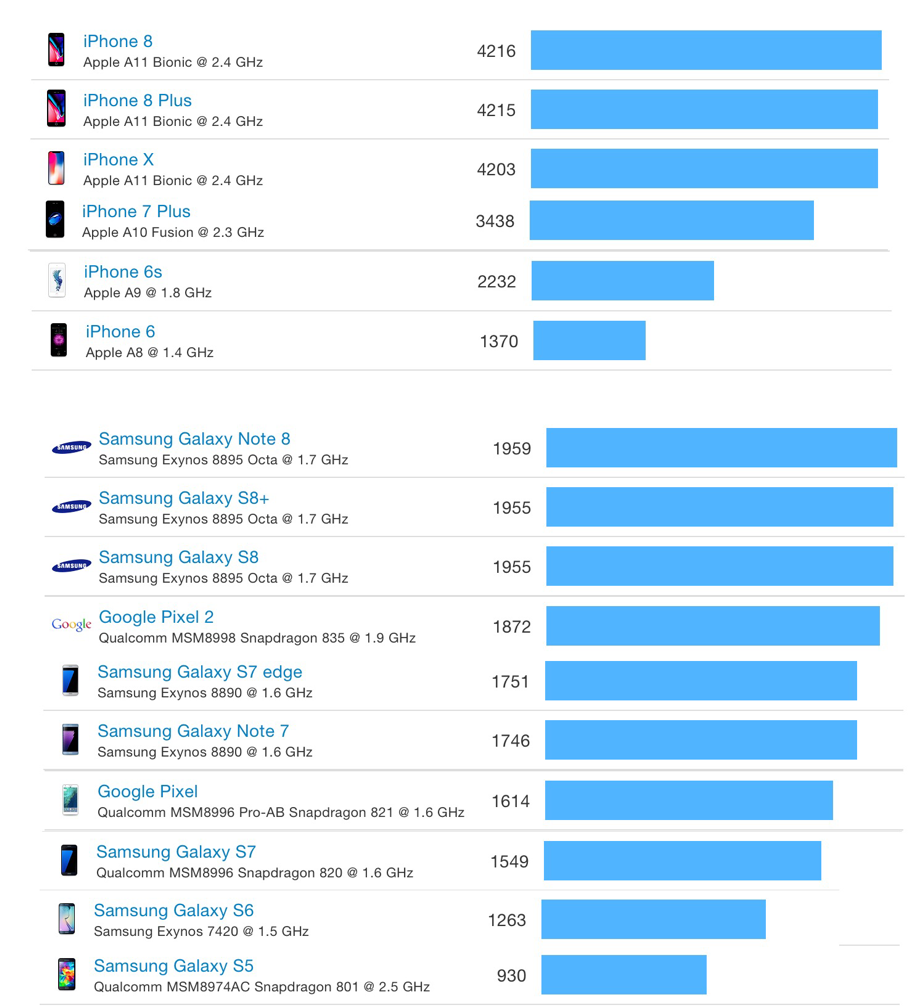 And make no mistake, single core performance is what makes a phone feel fast or slow. It dictates how quickly your phone can get through the myriad of mundane things it has to do. It's analogous to torque in a car motor which is what makes your car feel fast or slow. Multi-core performance is like high-rpm horsepower, it's there to provide power when you really need it but it doesn't affect how your device feels in day-to-day use.
Comparing iPhone processors to Samsung's processors is like comparing a supercharged Corvette Z06 to a Toyota Corolla. If GM said that after a few years when the rings started to develop blow-by that your top-speed would be reduced from 180mph to 150mph via the computer to prevent further damage. There might be an outcry. But if Toyota said that they would never limit their Corolla's top speed to 150mph everyone would just laugh. That's because everyone knows those weak motors would never come close to 150mph.
Same with Android phones. The iPhone 8 has over twice the single core power of the Galaxy Note 8. Android phones don't ask nearly as much from the battery as iPhones do. In fact, Apple could throttle the iPhone 8 by 40% and it would still be faster than the Galaxy Note 8. So when Samsung says that they don't throttle their Galaxy phones all we can do is smile. Because Android single core performance is so weak it's like they come from the factory permanently throttled.
And the thought that Apple is somehow deliberately sabotaging their products to make people upgrade is absolutely ludicrous. I've worked in many Fortune 500 companies and that's just not how anyone operates.
Now available in iBooks —>
The Tesla Bubble