An Apple Display Could Change Everything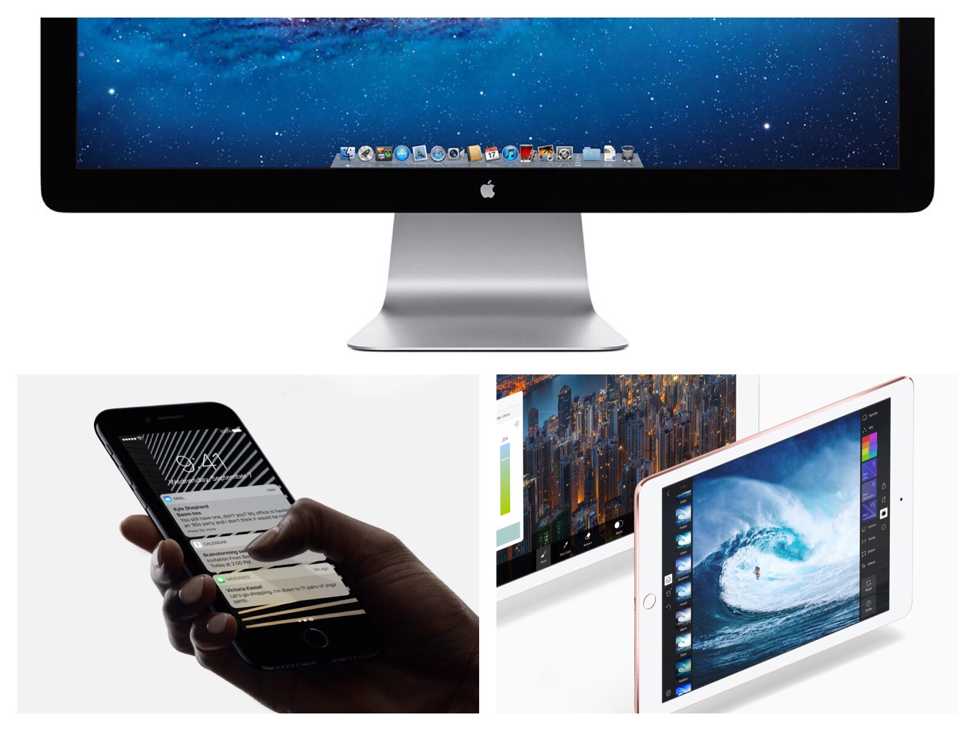 ​I have first-hand experience with how
horrific the display business is
. If all you have to offer is a dumb display, then good luck with that. But even I will acknowledge that there are strategic situations where it makes sense to be in the business of displays. The iMac is a good example. At the time, there was no good way to get a 4K monitor paired with a desktop computer unless you did what Apple did and bypass cables.
​But times have changed, and 4k monitors are readily available now. If you want a high resolution display, you don't need to buy an iMac anymore. I'm all for Apple offering an Apple Display if there is a pressing need for one but the iMac doesn't fit that bill.
So, what else can you do with displays besides just increase the resolution? At some point, your colors will be accurate enough and the pixels will be plentiful enough. If you want to offer a display that would push the industry forward and give you a competitive advantage that you can monetize, what do you do?
Better designed monitors would be nice but I'm not sure how many people are willing to pay a $200-$400 premium for a nicer look. If you can get the same monitor specs and display quality from someone other than Apple for significantly less money there will always be a downward pressure on sales. But Apple is in the unique position of being able to go beyond simply resolution and color reproduction as a value proposition if they so choose.
I'm hoping for smart displays. Apple has already given us a hint of this with their W1 chip–enabled headphones. If you haven't tried these yet, they're awesome. Imagine playing a YouTube video on your iPhone through your headphones. Then you see your iPad sitting on your desk, and you decide to finish the video on your bigger screen instead. You just start the video on your iPad and open the control center to select the headphones you're wearing. No need to unpair or re-pair in your iPhone and iPad Bluetooth menus.
I love Apple's new bluetooth. It's way beyond what Android is capable of, and Apple needs to double down on this convenience beyond just audio. I had no idea I wanted this until Apple gave it to me. Now I want it everywhere.
There was a pressing need for Apple to offer 4K iMacs. No one else could do it for them. It would be a similar situation with smart displays. Only a company that owns both the hardware and software sides could create a device like this.
And what would the purpose of said device be? Freedom and configurability. It would usher in a new future where iPhones or iPads could become true desktop machines. It could also be the companion display to an updated Mac Pro. You could sell the same display to any and all of your customers as opposed to just a tiny sliver like the iMac does.
But even more importantly, a device like this would shake the whole foundation of Apple's four-sector product matrix. You would still have the two categories of Consumer and Professional, but the concept of Portable vs Desktop would become quite blurred.
The product matrix of four squares essentially would be reduced to Apple's two main value propositions.
Communications and internet connectivity
Getting work done
The consumer computer market has been driven in large part by internet connectivity. During the nineties, people were spending $2000 on big honkin' IBM PCs so that they could basically e-mail each other and surf the web. They rarely actually did "work" on those expensive machines. I see the core competency in what Steve Jobs labeled as "Consumer" to be in a grand sense communications.
Professionals have always been the opposite. They've always been more concerned with the machine's ability to create versus wasting time in non-productive endeavors. Whether on movies, music, or photography, it doesn't matter. The machine exists to help the user leverage his time in the most efficient way possible.
So I see these two ends of the spectrum separated by various levels of screen sizes and processor power. One end has the bare essentials to meet a consumer's basic need for connectivity: a cellular-connected Apple Watch that could stand on its own. At the opposite end of the spectrum would be a desktop-bound Mac Pro.
I only want to pay for one cellular plan. Therefore, it makes sense to attach cell service to the most portable device and choose my screen size based on my activities. If I want a small 4" screen to wear in my gym shorts, I can do that. Or if I want a big 10" foldable screen to take on a long bus trip, so be it. This part I've gone over many times. But these are portable screens.
What if you want a desktop screen with your portable device? I'd love to see a big retina Apple display that could bounce between devices as easily as my W1 chip–enabled Powerbeats3 headphones can. Imagine being able to hook up your iPhone, iPad, or Mac Pro to a big, beautiful display. Apple could even add touchscreen functionality to it. This would be great for people who've always wanted a 32" iPad in front of them at a desk like Microsoft's Surface Studio.
This brings me to why I see the iMac as a losing proposition. From a financial analyst's point of view, this is a terrible product. Displays are disproportionately expensive. If there is anything wrong with any part of an iMac and the customer returns the product, Apple takes a loss on the whole thing. Bad memory chip? The whole iMac is returned. Funky silver paint splotches on the case? The whole iMac is returned. And so on. Same problem on the consumer's end. Did you buy a 2014 iMac and wish you could have the new display with the wider color gamut of the Retina display released in 2015? Sorry. You'd need to buy a whole new iMac. You can't just upgrade the display. Detaching the display from the brains allows Apple to reduce their warranty costs and increase their volume.
Apple needs to work their magic with video the way they've already done with audio. And Apple should include the MacBook Pro. With all the talk about whether the MacBook Pro lives on, why not let the people vote with their dollars? If people start to gravitate towards iPads that can be used with 27" monitors and trackpads, then Apple can kill the MacBook Pro. But if people continue to buy MacBook Pros even in the face of cheaper iPads with big monitors, then let the MacBook Pro live on. There's even a third possible scenario that most people haven't thought about. If people could pair their iPhones with full-sized desktop monitors, could iPad sales shrink even further? Could the iPhone kill both the iPad and MacBook Pro?
Steve Jobs famously divided Apple's product portfolio into the quad. I see the quad now as more of a spectrum between two value propositions. That's because soon you will no longer be able to label devices as simply "portable" or "desktop". If you extend your iPad's display to a 32" monitor, it's more of a desktop.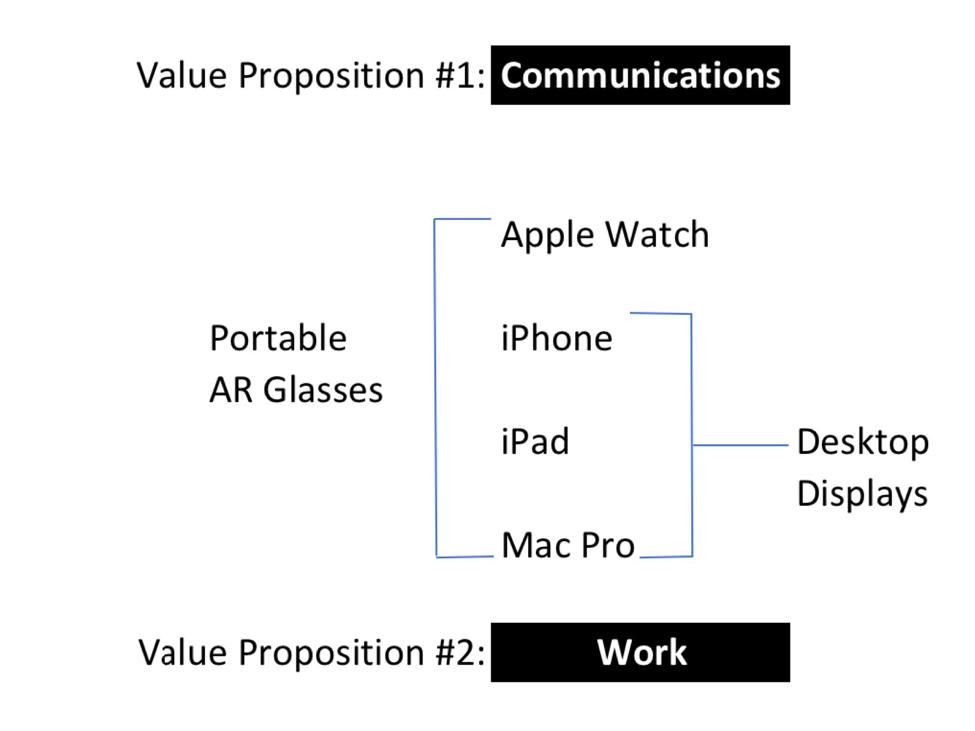 ​And on the flip side, what if you hooked up some augmented reality glasses to your Mac Pro? You could walk around the house or the yard and do stuff which makes your Mac Pro behave almost like a portable.

The most interesting part of this whole scenario is the interplay between the Apple Watch and the iPhone. If the Apple Watch became the central focus for cellular, that means it becomes almost like a mini-iPhone. And if the iPhone were to become the brains with the workhouse processor and paired with an Apple Display, it essentially takes on the role of the MacBook Pro.

What would bring us this Neverland would be a smart display.