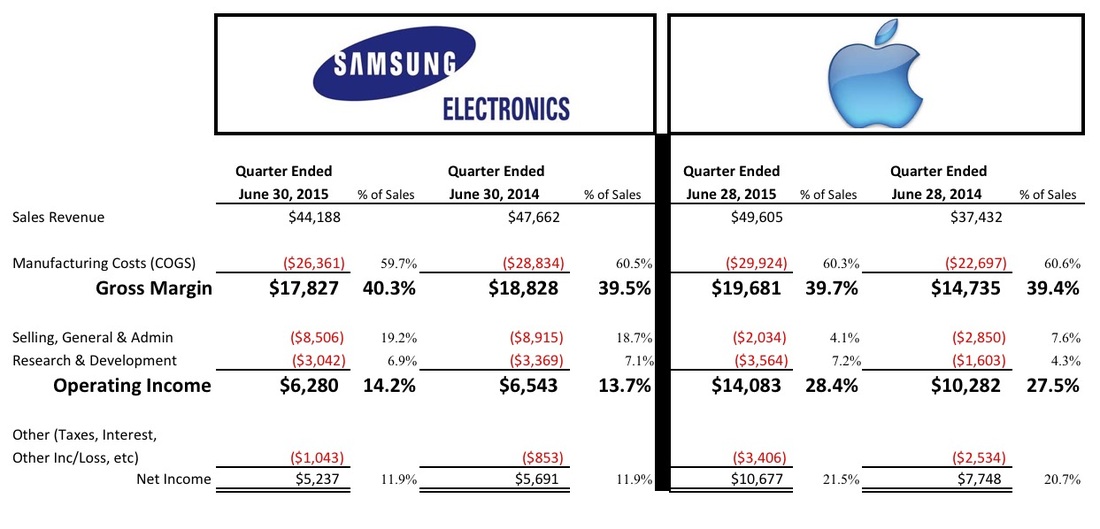 People often think that financial statements are boring because all they ever see is a single statement presented without any historical context or comparisons. That's like watching only one game in the NFL season and declaring it a snooze. You gotta know who's hot and who's not. Are they headed for 4-0 or 0-4? How is their big rival doing? Add in a few elements and you have yourself an edge-of-your-seat thrill ride.

Okay, maybe financial statements will never be that exciting, but they can still benefit from adding in some historical context and rivalry. Let take another look at Apple's Q3 2015 earnings release. The most recent available. Only this time, I've added Samsung Electronics right next to it. Also, I've thrown in the same quarter from the previous year so you can get a sense for which direction each company is headed.

Revenue
Look at that Apple sales increase! Apple has leapfrogged Samsung and now pulls in more revenue whereas Samsung revenue used to dwarf Apple's. Sales for Apple were up 32.5% year-over-year. This is the kind of sales increase you might get out of smaller companies that have a lot of room to grow. But to see that from a mature company pulling in over $100 billion a year is amazing. The sheer headaches of securing more materials, negotiating new freight contracts, and hiring new employees etc. to make this happen must be incredible. And to do it in a single year makes it all the more impressive.
I'm sure Samsung would welcome Apple's growth headaches. Sales declines brings a whole other set of troubles. Samsung sales were down 7.2% from the previous year and just warned last week to expect another weak quarter in Q3. Comscore just came out with their latest U.S. marketshare results and it looks
like Samsung's lost sales are going directly to Apple.
Manufacturing Costs
Apple's cost of goods sold was down three tenths of a point to 60.3%. That is okay, however, with a nearly 33% sales increase, I would have expected more because a lot of their costs are fixed. This lackluster
improvement in margin supports my theory that Apple is selling their Apple Watch at little profit or outright losing money on it.
But for a new product line trying to establish a foothold, this is not unusual.
Samsung on the other hand, had cost of goods sold reduction by 8 tenths of a point. It looks like they made good on their promise to enhance margins by reducing their product line and cancelling the losers. I just can't believe that they waited so long. And for all the talk of Apple's advantage over Samsung in reaching out to the "high-end" consumers, look at the gross margin comparison between the two companies. They are actually fairly close with both hovering close to 40% gross margins. The Galaxy line is also a premium product fetching healthy margins.
Selling, General, & Administrative
Now we get to the big differentiator between Apple and Samsung. SG&A for Samsung actually climbed to 19.2% of net sales versus Apple which was down to 4.1%. Both Apple and Samsung have similar sales volume and similar manufacturing costs but Samsung spends quadruple the money on advertising promotions. The bulk of SG&A is going to be selling costs which includes the cost of TV advertising, stores, marketing promotions etc. Samsung must feel that their sales volume would collapse without the advertising crutch. They sure as heck aren't expanding sales. What makes this number all the more amazing is that this is where the cost of maintaining Apple's retail stores resides. The price tag on that retail empire must be huge and yet Samsung still outspends Apple by a ratio of 4-1.
Research and Development
Talk about opposite directions. Samsung, which has a reputation for trying anything, is now cutting their R&D. Meanwhile, the crew from Cupertino has increased R&D by over 122% from the prior year! Something is definitely cooking in their R&D labs.
In Conclusion
It'll be interesting to see what happens over the next year. Samsung still needs to make some hard choices on their product portfolio if they want to get back to their former more profitable self. And with the commoditization of the Android market they will need to decide at which point all those marketing costs just aren't worth it anymore. Samsung has just come out with guidance that says their Q3 will be better than the previous year but down from Q2. Oh well, turn arounds don't happen over night.
Regarding Apple, how much longer can the iPhone juggernaut go on? Apple is able to leverage it's fixed costs in an environment of rising sales. However, if the iPhone starts to sputter, those fixed costs can cut both ways. When will the Apple Watch start to make significant contributions to the bottom line? 2017?
So much of what I'm seeing in the mobile phone business reminds me of the rise and fall of the PC industry. When Apple decided to enter the phone market the other mobile phone companies scoffed at a PC maker that now wanted to make phones. However, it looks like Apple has been able to apply a similar strategy of hardware and software differentiation aimed at the high-end consumer. I wonder if that might work anywhere else?