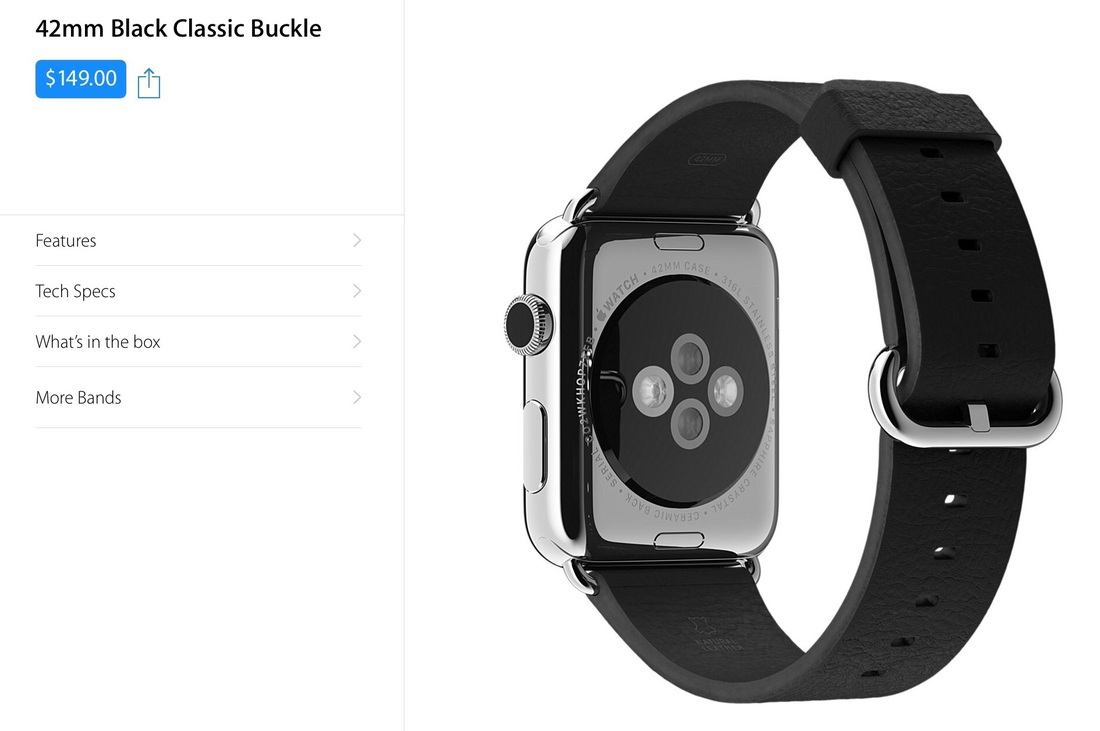 I've heard more than a few comments regarding how Apple is pricing the leather bands for their new Apple Watch. It seems hard to believe that a leather band could cost $150 dollars. Somehow Apple was able to make a much larger leather case for the iPhone 6 and it's priced at $45. Or you could go down to your local JC Penney and get a decent leather jacket for about $150. So what's the deal for $150 for a little strip of leather?

I think there are two possibilities here:
Since Apple is probably making a low to non-existent profit margin on the Apple Watch they are trying to make up for it with the accessories. Kind of like how a movie theatre is willing to lose money on ticket sales since they make make it up on concessions. This gets the watch into as many hands as possible and allows those with money to burn to subsidize those who can barely afford one.

Most of the cost of the leather band is in the lugs. Everyone gets sidetracked by the leather portion but where Apple is really adding value is in the lugs. The design and required tolerances to manufacture the lugs are expensive.



My manufacturing background tells me that number two is probably the more likely scenario or at least the larger driver of the two. Why?
Manufacturing tolerances can greatly impact the cost of manufacturing. I have no clue how tight Apple's specifications are for the lug dimensions but I'm guessing that Apple is demanding very exact dimensions. Let me give you an example from my prior experience on how this impacts cost. I worked for an automotive manufacturer that provided Toyota with accelerator pedals. Anyone remember anything in the news a few years back about Toyota involving gas pedals? Well, my employer didn't have anything to do with the period that involved all the lawsuits but everyone supplying Toyota after that had to deal with the extremely tight tolerances that were demanded of vendors.
Toyota wanted the spring resistance pressure to be a certain pounds per square inch and demanded that vendors test every single spring prior to installation. Not a sampling but every single one. That meant that each assembly line had to have robotic arms which grabbed the next spring about to be used, test it, and return it to the line if it passed or reject it if it was outside of tolerance. This machine would be custom built and utilized custom software. Lets say this machine cost $10,000 and could do 360 springs per hour. Now lets say that to meet your manufacturing schedules that you have to produce 36,000 springs per hour. That means you just spent one million dollars on new machinery. You're going to capitalize that million and spread it over every unit that you sell.
Tolerances exist at every step in manufacturing and involved either human inspection, machinery, or software engineers. I haven't yet mentioned the cost of yield loss. The tighter the tolerance, the more inventory that is going to be scrapped. The cost of that yield loss is spread over the all the remaining good units.
Most people have no concept of what it takes to work with metals. And I have no idea what it takes to work with stainless steel alloys. But I've worked in a few manufacturing plants that did a lot of machine shop work and I can tell you with certainty that metal never comes out of castings looking smooth and shiny. That always requires multiple processes that are very expensive and may require shipping your inventory a lot of miles if you don't have the equipment in-house. One way to give metal a smooth surface involves shot peening it with high dollar machinery. This entails shooting it with very fine pellets to wear down all the sharp surfaces. Once it is smooth it is ready for the coatings. A whole industry exists which specializes in coating metals with various kinds of chemicals to make them more rust or wear resistant or are a precursor to yet other coatings. Then there's the holes which need to be drilled which will entail a whole other set of tolerances that need to be met. Hopefully after the holes are drilled you don't have to ballize them. That would mean striking the entry to the hole with a precise strike from a hammer-like contraption with a ball on the end that gives the hole a groove at the entrance. And to achieve the high gloss luster on the Apple Watch lugs I can't even imagine what kind of polishing must be involved or how long that must take.
Now I'm not trying to say that Apple isn't making any money on their watch bands. I don't know. I'm simply making the point that if you take a rational look at the Classic Leather Buckle, most of the cost must be in the lugs. You're not really paying for the leather, you're paying for Apple's easy switch band system. If this is true, don't hold your breath for any sub-$50 aftermarket bands using the official Apple lugs. Because if these lugs are costly to manufacture, anyone purchasing them from Apple is going to have to pass along these costs as well.
I suppose there's always the prospect of just buying cheap leather bands with knock-off lugs. This is similar to buying cheap charging cables at a gas station for your iPhone. Do you really want to trust the maintenance and longevity of your premium device to a cut-rate knock off? We already know that the Apple Watch screen will shatter if dropped from about three feet. Do you want to trust the holding power of imitation lugs that are manufactured to loose tolerances? I don't think I do.