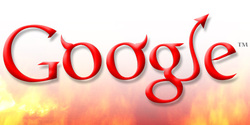 It's amazing to me that Google is willingly falling into playing the role of the business villain that we've all seen in countless kids movies growing up. You know, the one where the evil Acme Corporation has a seemingly harmless yet hypnotic product that at some point in the future will be switched on and turn all the consumers into mindless slaves to the corporation.


Google is going after their "next billion users". That means that they are going after people who as of now don't have access to computers or the internet. That would be a market in the developing third world countries. They are trying to break open new markets for their advertisers to people who as of now are free from their targeted advertising campaigns. And what is the purpose of advertising? To create desire where before there was none. Google wants to exploit the least among us into realizing that their lives are empty without the material products that are being advertised on their Youtube feed or their Facebook friends all now have.

So Google is going after the segment of the population who can least afford to purchase material products with the express purpose of inflaming material desires. I can find nothing more offensive than this. Apple gets a lot of guff for creating premium products that are specifically aimed at higher income markets. But at least these are people with disposable incomes who are simply trying to decide which brand of computer or phone to buy. Apple isn't trying to advertise MacBooks or iPhones at your local Chuck E. Cheese pizza house to inflame material desire in eight year olds.

The Google shills are all out spewing what a great thing this is as if the church of St. Google has opened it's doors to the poor hungry masses. The main line of thinking goes that they will now have access to computers and internet to prepare them for the future. But the truth is that the internet is at best a neutral proposition. It causes as many problems as it solves. And with the epidemic of children glued to their devices in the developing world who shun their school books I'd say that not having access to Miley Cyrus's latest viral video is not a bad thing.

This is the logical progression of a company whose business model is predicated on harvesting knowledge of user habits to sell to advertisers. Apple, HP, or even Microsoft don't track my online habits so that they can sell my name to companies interested in 45 year old professionals with kids. They make their money on devices and therefore will leave goat herders in Zimbabwe alone. But Google? Everyone is fair game because no matter who you are, somebody wants your money. No matter how little you may have.

My advice to Kurdistan, Liberia, et al is this: Don't invite the vampire into your house. The monster needs new flesh to suck the life out of and it doesn't need to be you.