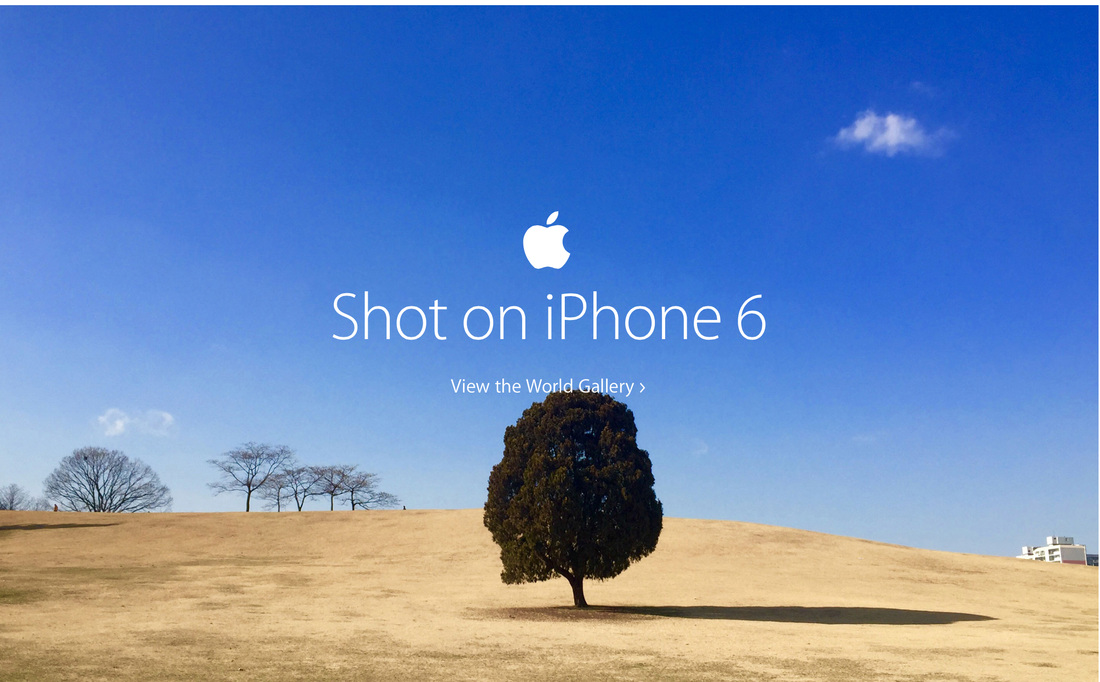 Outside of the financial press you don't usually see a lot of ink spilled regarding a company's latest quarterly income statement. Which is understandable considering that unless you own a piece of the company all anyone cares about are the products. So I found the considerable buzz surrounding Apple's Q1 results quite amazing. You couldn't stand in the check-out line at Walmart without listening to people around you talk about the fact that Apple had made more money than any company in a single quarter, ever.

But what was even more surprising was the fact that no one was discussing the really interesting part of what was revealed. iPhone gross margins. Officially, Apple doesn't discuss product line profitability so as to not give away any competitive advantages. But an interesting set of circumstances occurred in the Q1 2015 earnings that revealed more than Apple may have liked. iPhone sales more than doubled from one quarter to the next which allows us to make certain assumptions we could't before.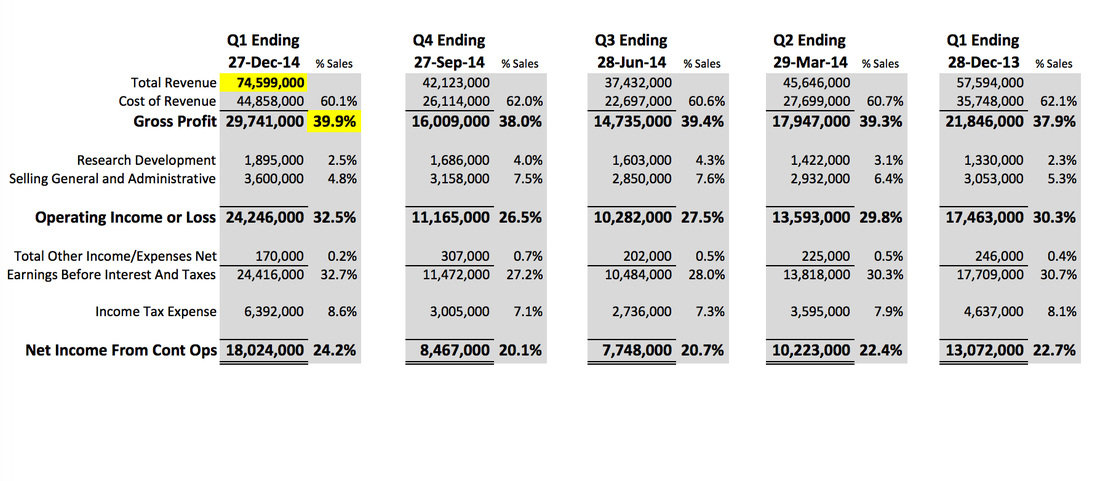 Why is this significant? Because when you have such a large move from one segment of your sales, you can start to calculate variables. For example, let's say that you reported the total salaries of all four people in your department on an annual basis but they were all lumped together so as not to divulge how much money any one person makes. Now, let's say that you added a fifth person in January. We can reasonably calculate how much money that the new guy is making because most of the department salary increase will be due to him.

This happened to Apple in Q1. There was an almost two full point increase in Gross Margins in Q1 which was accompanied by the addition of a "new guy", the iPhone 6 sales bump. Normally these kind of margin changes get lost in the product mix ups and downs from quarter to quarter. But Q1 saw such a huge move from the iPhone that we can reasonably say that the margin shifts must be due to the iPhone product line.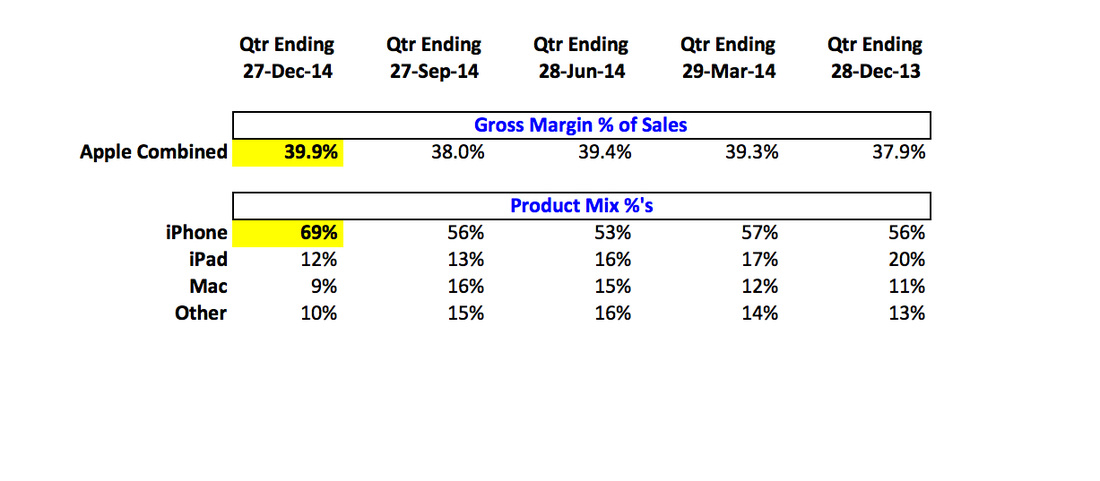 Here is what my math is telling me. If I assume that the gross margins on all other product lines were fairly static, the iPhone gross margins had to go up by 2.7 points. We know this because Apple does report total revenue by major product group and if you multiply the revenue by the Q4 blended rate you can back into what the iPhone cost of sales is because it's the only missing piece. Furthermore, the "blended rate" we are using for the non-iPhone product segments is actually too high because it contains an iPhone element. So the estimate that I come up with is actually very conservative, because if I could remove the Q4 iPhone impact, the blended rate would be lower, causing the Q1 iPhone 6 uplift to be even higher.

So what does this tell us about the iPhone product line? Once again, there is a very conspicuous "new guy" who we can reasonably say is responsible for the majority of the increase. We know that the iPhone combined gross margin percentage is up by 2.7 points, but if you could isolate this to the 6 Plus only it would be even higher than the 2.7 points. It would be closer to 4 points. The iPhone 6 Plus is bringing in about $77 dollars more than the iPhone 6 in gross margin. Net profitability after taxes is probably about $48 dollars more. No, Apple isn't making four hundred dollars of pure profit from every 6 Plus sold, but it has garnered a healthy bump in profitability.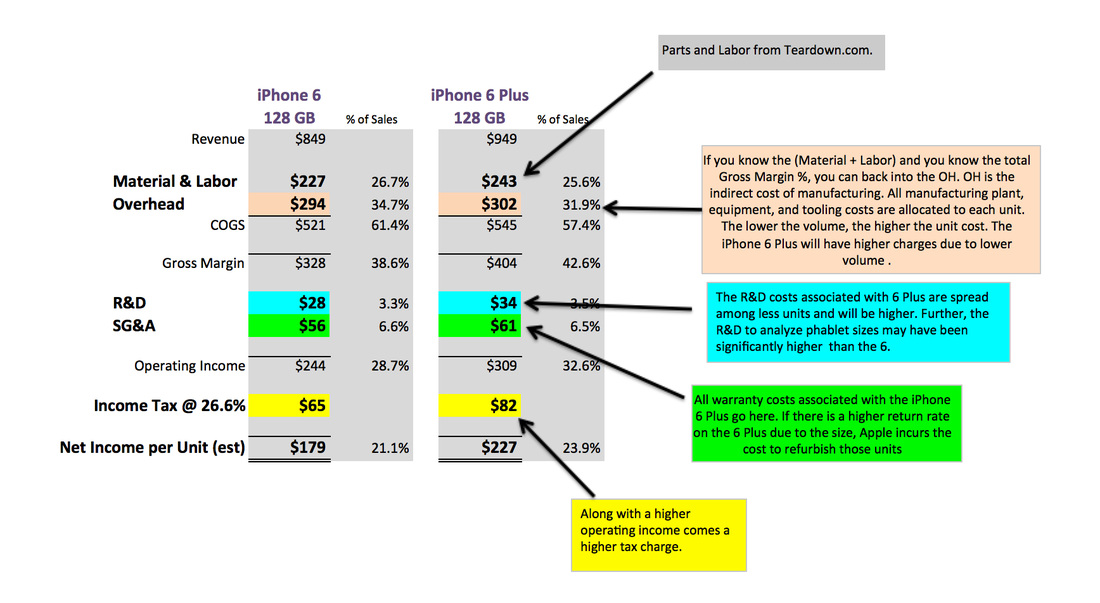 Speaking of mobile phone profitability, I can't help but mention Samsung's newly announced Galaxy Edge at this point. You can see what obstacles Apple had to hurdle to increase profitability by $48 per unit. They had to convince the public to swallow a $100 price increase and hope for a large enough demand to absorb all the fixed costs associated with starting a new product line. It was worth it, but not easy. Apple had to count on new buyers and people switching from Android to prevent a situation where purchasing power for both models would go down. Now look at what Samsung has done: they've taken the most expensive component in the phone and made it more expensive. Plus, they've added cost to the design materials by leaving plastic and switching to more premium metal and glass. They've also divided their market so their purchasing power on both models is further eroded with no hike in their prices, even though materials and overhead will be higher. At exactly the time when Samsung needs to leverage their fixed costs, they've done the opposite and further fractured their product line by forking it into two models.
This is do or die time for the Galaxy. Upper management let the current phone launch probably because plans were too far along to change without major delays, but if sales aren't healthy within the first 30 days there is going to be some major shakeups happening. I stand by
my previous prediction
that we will probably see Samsung moving away from expensive displays after the Galaxy S6 and Note 4. The public has not rewarded Samsung thus far for absorbing the hit in margins. And from a financial analysts point of view, Samsung continues to make all the wrong choices.
Meanwhile, Apple continues to reap the harvest laid down by the simple proposition of building the best product possible without needless gimmicks.