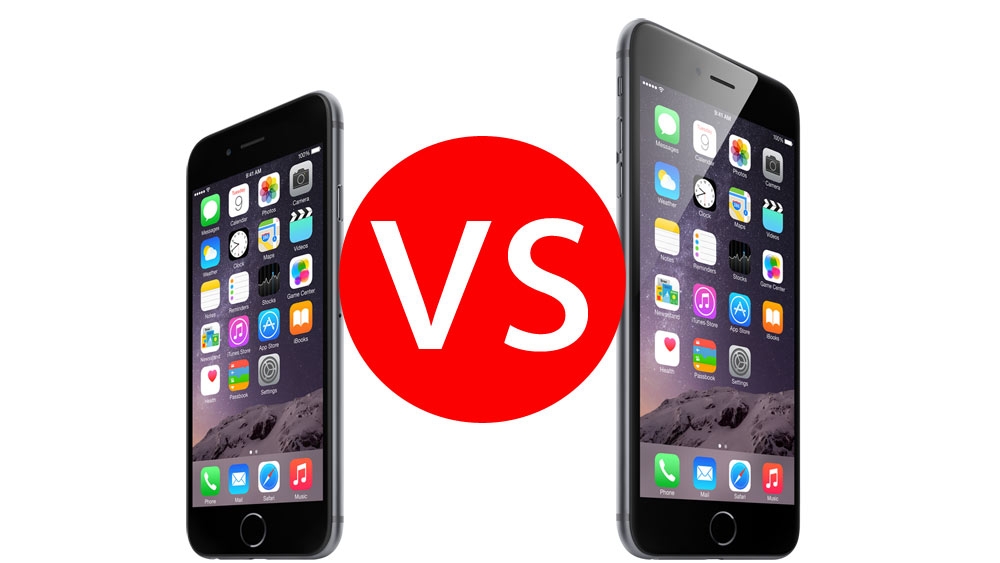 I may be a little late to this party but I had somebody just last week try and convince me that Apple is making $500 profit from every iPhone 6 Plus that gets sold. The insinuation was that Apple was somehow needlessly gouging the public for profit sake. Now, I'm certainly not against maximizing profit, but I get paid to analyze product costs for a living and there's more to the picture here than meets the eye.

The seed for his humorous idea that Apple makes $500 per phone came from a September 24th Business Insider article that listed component and labor costs for the iPhone 6. But I traced a series of articles along the same lines that all referenced the research firm IHS as their source. Below is a link to the article and their main graphic.
http://www.businessinsider.com/analysis-iphone-6-plus-costs-prices-and-profits-2014-9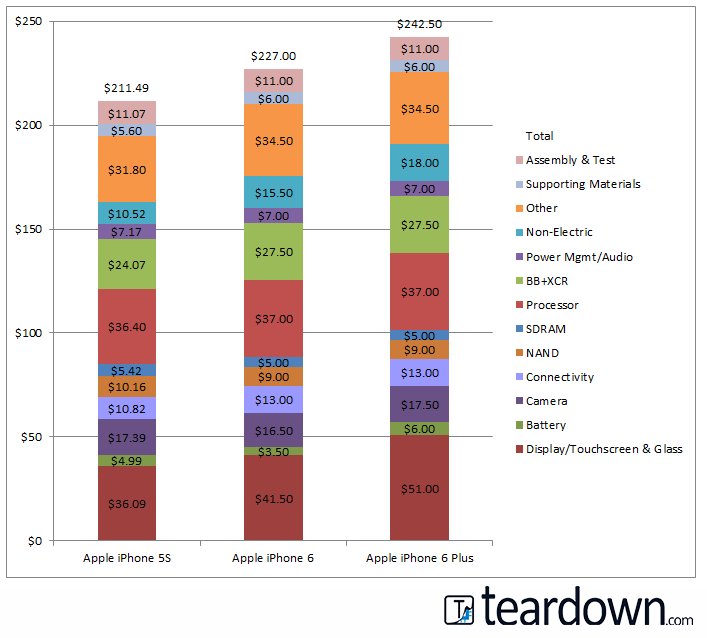 I have no quibble with their estimate for component costs and assembly labor. I do, however, strongly object to tech journalists or research firms defining "profit" as being the following equation.

Wrong
Sales - (Component Costs + Labor) = Initial Profit

That is not even what we in the financial world call "Gross Margin", let alone anything with the word profit in it. So to give a better sense of perspective to where the (Component Costs + Labor) fit in the overall income statement, I put together the following graphic.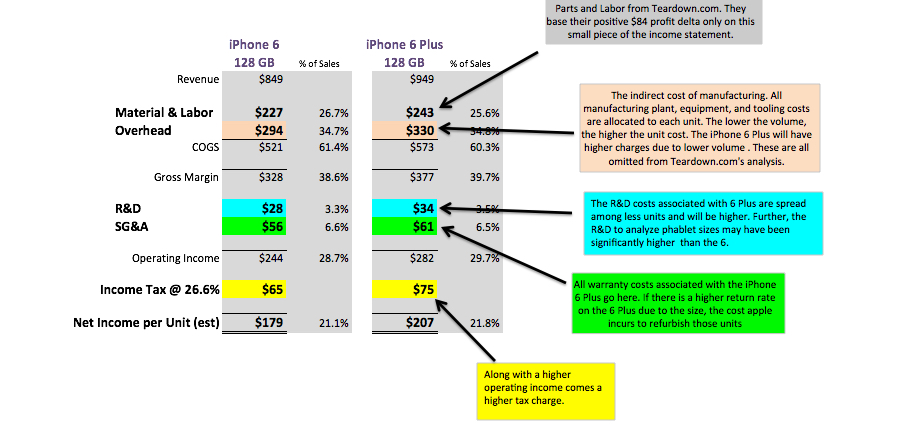 As always, Apple does not share product line financials with the outside world. These are simply my estimates based on their publicly reported company financials. And it looks to me like Apple isn't making anywhere near an extra $84 on the iPhone 6. It's closer to $28, plus or minus $10.
Apple's manufacturing overhead costs are enormous. We can back into this because of three other data points.
Their reported overall Cost of Goods Sold is around 61% of Sales
iPhone and iPad sales in 2014 was nearly 70% of total revenue
Material and labor can be quantified which leaves OH as the only missing variable
I raise the point of Apple's overhead because this is entirely missing from the Business Insider article. That's like writing a recipe for a peanut butter and jelly sandwich that omits jelly.
So does the iPhone 6 Plus warrant a $100 premium? By my quick calculations, that extra $100 leaves Apple with a slightly higher margin than the iPhone 6. No, I didn't try to back into that number. It looks to me like Apple financial analysts made the case that if they didn't raise the price on the 6 Plus that there was going to be some serious income statement consequences. I doubt anyone outside of finance wanted to raise the price. In any case, I think they probably nailed it.
It's entirely possible that IHS never meant to imply that Apple pockets an extra $84 and that the tech journalists went for the flashier headline all on their own. It wouldn't be the first time that occurred. For the sake of IHS's credibility, I hope that's what happened.