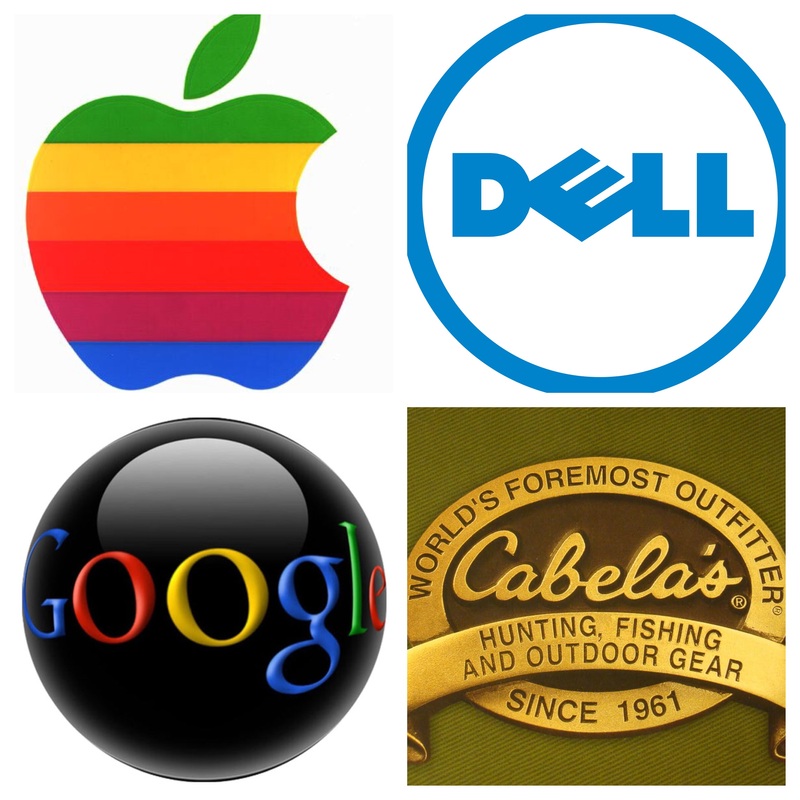 In my earlier analysis
comparing the income statements of Apple and Samsung
Electronics one big thing really jumped out. Selling, General, and Administrative (SG&A) costs are much lower at Apple than they are at Samsung. How does Apple do it? And it seems like nobody but the pencil pushers really notices.
Products get all the glory, but history is full of companies that had great products yet never reached critical mass due to poor profitability and financial management. You've got to have both. If the iPod was Steve Job's magnum opus, than a culture of efficiency is Tim Cook's. Efficiency is nearly as important as products but it doesn't sound half as sexy. It's like the difference between getting the Oscar for best actor of the year vs the guy who gets the Oscar for cinematography. If I say the two names Matthew McConaughey and Phillipe Le Sourd who does everyone recognize? Exactly.
Continuing the theme of Apple's SG&A, I decided to stack Apple's income statement up against a few other notable companies and see what else stood out. Here are the others:
Google - Apple looks great compared to Samsung, but Samsung doesn't get the favorable mix of service revenue that Apple does. So how would Apple look versus a service-oriented company that doesn't get bogged down in shipping hardware all over the world, yet still competes directly with Apple?
Dell Computer - It's a business fundamental that a direct build-to-order system yields massive savings in SG&A because you bypass the store and deliver directly to the customer. You don't have to pay for all the buildings and retail head count. Yes, Dell has had some top-line revenue problems recently, but their build-to-order model should give them an advantage over Apple. Should.
Cabela's Corp - This may seem like it's out of left field but this small company has been on fire in the last decade. Like Apple, they enjoy intense customer loyalty and can charge premium prices. They steer clear of commodity products and try to offer high quality goods that are not competing on the basis of price. They have a combination of efficient direct catalog sales and are building retail stores that rival major tourist attractions for traffic.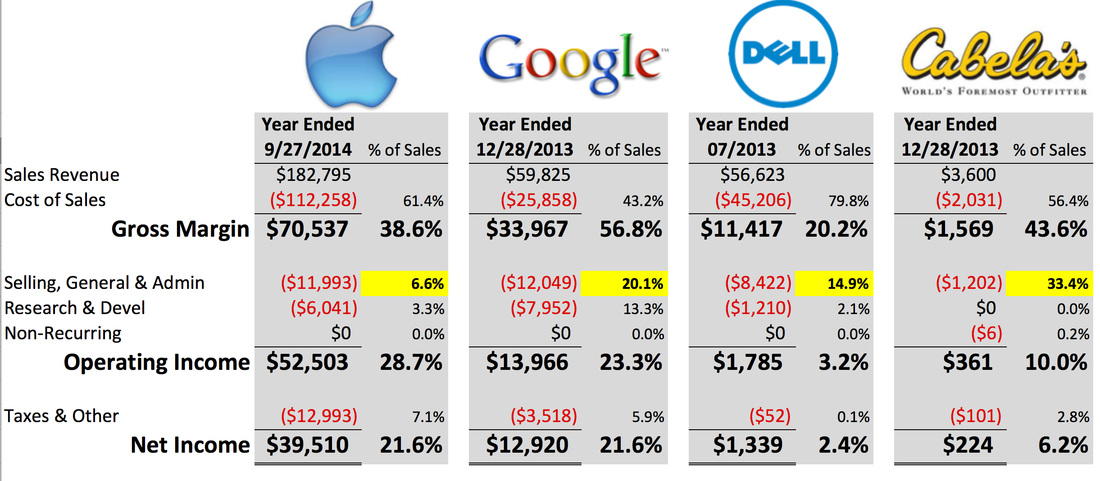 So what do we see in this income statement comparison? Apple's SG&A is far below everyone else. Apple's sales are three times larger than Google, yet their SG&A is less! This is even more surprising because Google doesn't have a retail chain. All of Apple's costs associated with running their retail empire reside in SG&A. If Google doesn't have a retail chain, isn't shipping physical products all over the world, and doesn't have to deal with hardware warranty costs, just what the heck are they spending a
billion dollars a month
on? I heard a news report the other day about how the cost of winning the US Presidency could approach one billion dollars in 2016. The report was meant to shock the audience with the sheer enormity of the money involved. Well, Google spends that much money every four weeks versus every four years!
Apple also blows away Dell who has long had a reputation for superior supply chain management. My guess here is that the pricing philosophy is the main reason for the huge difference. Apple opted out of the low-price game whereas Dell embraced it. There are serious SG&A advantages to Dell's direct selling method and even with this tailwind their SG&A is at nearly 15% of sales versus Apple's 6.6%. Further illustrating how efficient Dell's model is, one of the reasons that Dell was able to undersell Gateway was because they didn't have the massive cost overhead of Gateway's Country Stores.
Lastly, we have Cabela's. Cabela's is included in this comparison because this is what Apple's profitability would be like if the guys from Samsung ran Apple. If Apple was to actually take the advice from the guys in the tech press you'd see something like the 6% profitability that Cabela's has. Cabela's is a premium retailer like Apple that has a mix of low-overhead direct sales coupled with higher overhead retail stores. That part is similar to Apple, however, part of Cabela's value proposition is in offering a wider array of merchandise than any of their direct competitors. Cabela's used to be mainly like Dell offering direct-to-customer catalog sales, but at about the same time as Apple, embarked on a bricks and mortar retail expansion. Their stores have set records for foot traffic and are without exception successful wherever they go.
If Apple was to start multiplying the products that they sold to include slow moving and low volume items this is the kind of profitability they would have. Their top line sales would be higher but margins would certainly go down. Apple would than have the same issues that come with carrying a wide merchandise selection. They'd end up with more middle managers, massive amounts of unsold inventory sitting in warehouses, and increased freight costs etc.
From a Cost of Sales (COS) standpoint, nothing really stands out. Since Google isn't really in the hardware business, they don't have all the costs associated with manufacturing that Apple does. No plants, machinery, hourly workers etc. so you'd expect them to be lighter in COS. Dell on the other hand is much higher. They have all the manufacturing costs that Apple does but they lack the services that Apple and Google offer. So coupled with their pricing philosophy you'd expect Dell's COS to be higher as a percent of sales.
So, yes, Apple has had some great product hits. The iPod, iPhone, and iPad are all businesses which any company would love to have. But Apple's soaring stock price is a combination of three things.
Great products
Product portfolio restraint
Financial discipline
Take any one of these away and Apple becomes a "normal" company. Most companies don't get all three of these right at the same time and if they do, it doesn't typically last long.