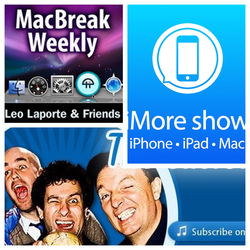 If, like me, you're a busy person who doesn't always have the time to just sit and read the latest Apple news than you have *got* to check out the Apple Podcasts. Then while you're cleaning out the garage, driving to work, or actually being productive at your day job, you can get the gist of the latest news in a format that'll probably make you smile. Because let's face it, if it's not fun to listen to, you probably aren't going to go to the trouble, right? Following are my picks in various categories.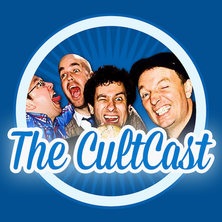 If you want a fun podcast:

"The CultCast" – Erfon Elijah is hands-down my favorite podcast host. This guy is like the LeBron James of the Podcast world. It's a thing of beauty when you see someone who's found what they are truly gifted at and then proceed to use that gift to make a living. When little Erfon was a kid, I wonder if his mother wondered what good would come out of his knack at being the class clown? In any matter, he humorously guides a one-hour discussion of the latest Apple headlines each week with his crew, whose names escape me at the moment except for Leander.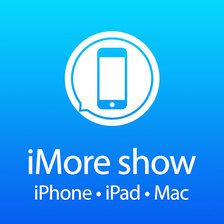 If you want hardcore technical info:

"The iMore Show" – If Data, the android from Star Trek Next Generation, had suffered some sort of transporter accident and was transported back in time to inhabit a human body, it must have been in the form of Rene Ritchie. This guy is a human library of iOS/OSX knowledge and regularly amazes me with the facts he can pull out on cue. But that's not all. Rene's ensemble of Ally Kazmucha, Peter Cohen, and Serenity Caldwell are probably the single best concentration of Apple technical knowledge you are going to find. There is an army of Apple journalists on the web, but these guys are the Navy Seals. It seems that there is no technical issue or glitch that they can't solve or false meme they won't debunk.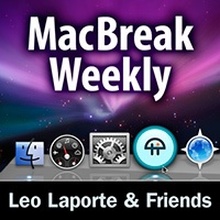 If you want the best pontificating:

"MacBreak Weekly" - When Leo "The Tech Guy" Laporte, Andy Ihnatko, Rene Ritchie, and Alex Lindsay get together, it's like a gathering of the ring bearers of Middle Earth coming together to hold counsel. There's no better two hours of war-gaming what is happening in the industry. Each brings a gravitas of experience and success that complements the other members, and they have some great discussions and a lot of constructive criticism.


Honorable Mentions:
"Connected" – This is a fun, weekly hour-and-a-half discussion between Myke Hurley, Stephen Hackett, and Federico Viticci. They discuss the latest news in the industry and give an internationally flavored view of what it means to both to the average user and society as a whole. It may take a little while for Federico to grow on you since you have to look past his limited vocabulary and slower speaking, but at some point you get used to it and enjoy the show.

"Clockwise" – My wife is always urging me to eat more "superfoods," a superfood being a nutritionally dense food relative to the serving. "Clockwise" is the superfood of podcasts. A relatively new podcast that I've stumbled upon by Jason Snell and Dan Moren, I recommend it first if you have only thirty minutes to listen to something and want to finish what you started. They address four topics for five minutes each so that you get a lot of info in a short period of time. Jason Snell, an Apple institution in and of himself, literally ran MacWorld magazine.


So there you have it, my picks for the best Apple-centric podcasts out there today. There are many more that I may occasionally listen to, but these are my favorites that I never miss.