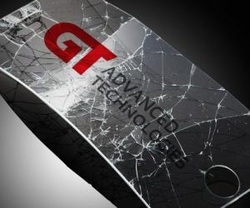 These latest headlines attributing GTA's bankruptcy to manufacturing mismanagement are just wrong. Anyone who's ever been involved with starting up a new plant or product line is going to have similar stories of aimless workers and massive yield loss issues. As I mentioned a few days ago, when we at Gateway Computers started selling plasma TV's, we lost two thirds of our units due to yield loss. It was industry wide improvements in yield loss which was the real driver in the prices of flat screen TV's coming down. Granted, it sounds like GTA may have fallen towards the extreme side, but I didn't read anything that really surprised me.

Even the story of the manager who "threw away" some boules of sapphire that were worth hundreds of thousands of dollars didn't seem that unusual to me. I wouldn't say it happens all the time, but I have known of similar situations. Say a manufacturing manager is up against production deadlines. Now all of a sudden scrap, which may have fallen into a gray area on quality, may suddenly happen to have some good units that had been thrown away with the bad. I still remember stories from my father who worked in a General Motors metal stamping plant in the 1970's, how GM would un-scrap body panels when they got behind and send them to Chevrolet. The good ones went to Cadillac.

So, if the yield-loss issues and plant management issues were to be expected, what did cause this implosion? A lack of two things: time and money. Time to sort out the manufacturing issues and the money to pay for that time. Which really leads back to the executive management team's poor planning. Manufacturing is like growing a crop, and you can't plant corn and demand that a crop appear by next Tuesday.

It sounds like Apple wanted to change the deal with GTA so that instead of only furnishing the sapphire furnaces, GTA would take on the entire manufacturing process. This would have led to an exponential growth in profits for GTA. But like a general assessing the risks of sending his troops into battle, GTA's CEO needed to have a reasonable strategic plan in place and weigh the risk of failure before committing his troops.

This isn't a story of manufacturing incompetence. It's a picture of executive mismanagement.